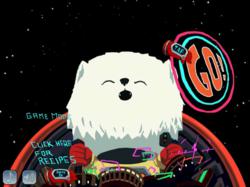 Parents have a natural desire to teach their kids to resist the fast-food culture and eat healthy foods
Alhambra, CA (PRWEB) July 22, 2012
Yum Num's Galaxy, a cooking game for kids aged 2-6, was announced for the iPad by Goodhustle Studios. The family-friendly nutritional learning game features access to the healthy recipes used to create meals for aliens in the outer space adventure game for kids. The game is available from the App Store for $1.99, and is on sale for $0.99 during the initial release period.
"Parents have a natural desire to teach their kids to resist fast-food culture and eat healthy foods," said Gordon Luk, president. "Our cooking game helps kids identify the healthy ingredients used to make nutritious meals. It's experienced as a fun outer space adventure game where kids come to the rescue by making healthy meals for hungry aliens. Parents can access real versions of the classic recipes in the game to help kids get engaged with real food."
Yum Num's Galaxy was developed by a small team of independent video game developers. Adam Robezzoli provided the initial concept, Anthony Wu provided the artwork, and Gordon Luk of Goodhustle Studios developed the final concept, and the detailed game design and programming. Advertising and public relations are being handled by online marketing firm Power Marketing International LLC.
For more information:

About Goodhustle Studios, Inc.
Goodhustle Studios is an independent game and app development studio whose mission is to create beautifully crafted games of the highest quality for both kids and adults. Their kids games are designed for use as educational tools for parents to teach their children about the world around them. Find them at http://www.goodhustle.com
About PMI – Power Marketing International, LLC
Power Marketing International is an Internet marketing & search engine optimization firm located near Reading, PA, specializing in keyword-driven web design, web marketing, search engine optimization, and social media marketing services and strategies for small and mid-sized organizations. Find them at http://www.PowerMarketingInternational.com.
iPad is a trademark of Apple, Inc., registered in the U.S. and other countries. App Store is a service mark of Apple, Inc.