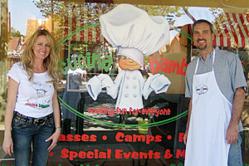 We offer culinary education covering a wide range of cooking techniques, along with safe food handling, etiquette and nutrition
San Jose, CA (PRWEB) December 22, 2011
Cucina Bambini in San Jose is offering two cooking instruction classes for children beginning January. "Around the World" will focus on teaching exotic dishes and the "One Course at Time" theme will teach children on how to cook a six-course meal. Classes run for six weeks with classes in the morning and afternoon. The cost is $175 for the series or $30 for individual classes.
Children six years old and above can apply and choose what theme they want to learn. "One Course at a Time" classes runs from Jan. 3 until Feb. 7. Lessons are held from 11:00 a.m. to 12:30 p.m. Students will learn different meals that can be served in a proper one-course meal and by the end of six weeks, they will be able to put together a 6-course meal. The class has 20 seats available.
"Around the World" classes will involve lessons on how to cook different dishes from different countries. These will include dishes such as Thai Pork Basil, Sushi, Dim Sum, Clam Chowder and Avocado Eggrolls. Classes are held from Jan. 4 to Feb. 8 from 11:00 a.m. to 12:30 p.m. Students will be learning about cuisine from Thailand, Cuba, Japan, China, France and Italy in the course of the six-week series.
Each class also offers an afternoon session on Tuesdays from 4:00 to 5:30 p.m. and Wednesdays from 4:30 to 6:00 p.m.
"We offer culinary education covering a wide range of cooking techniques, along with safe food handling, etiquette and nutrition. We provide a fun and relaxed environment where children of all ages will build confidence and be encouraged to use their creativity in the kitchen. Whether participating in our individual classes, cooking series, summer camps, home school courses or field trips, your kids will have so much fun, they won't even know they're learning," said Shelley Ballard of Cucina Bambini.
Cucina Bambini encourages adults to have fun and be creative in the kitchen as well. They do a lot of corporate team building events and adult classes in a relaxed environment.
Enroll now by calling 408-564-7773 or visiting http://www.cucinabambini.com. Cucina Bambini is located at 1041 Lincoln Ave., San Jose, CA.
About Cucina Bambini
Cucina Bambini is owned by Rick and Shelley Ballard who opened the store in April 2008. They created the school to fulfill their dream of creating a fun and unique business that they could build together. Opening Cucina Bambini showed their passion for cooking and their passion to help and educate children. Cucina Bambini also provides kid's activities and is a unique venue for kid's birthday parties.
###