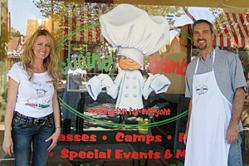 I have brought my daughter here for three years now, each summer
San Jose, CA (PRWEB) January 31, 2012
Beginning on Feb. 21 and running until March 27, Cucina Bambini, a San Jose cooking instruction company dedicated to opening children's eyes to different foods through fun and educational cooking classes, will offer "Six Weeks in Italy" cooking class. On Feb. 22 until March 28, Cucina's "Around the World" cooking class will also be available. Both classes are for ages 6 and above, and cost $175 for the series or just $30 for one class, plus a $3 processing fee for Ocean Grove children. All materials are included with the courses.
During the 'Six Weeks in Italy' course, children will be introduced to Italian cuisine over a six-session course. Classes will be held on Tuesdays, from 11:00 a.m. until 12:30 p.m. and afternoon sessions are also available with Tuesday classes offered at 4:00 p.m. and Wednesday classes offered at 4:30 p.m.
Week one will involve the children learning to create basic and dessert pizzas, followed by fresh pasta and marinara sauce, then bruschetta and cannoli, risotto and chicken piccata, calzones and ricotta cake with strawberry sauce, and the last week will focus on chicken parmesan and garlic bread.
The 'Around the World' course launches children into global cuisine as they visit a new country each week. Classes will be held on Wednesdays from, 11:00 a.m. to 12:30 p.m. Visited cultural cuisine will include French broccoli and cheese and dessert crepes, Thai chicken satay and vegetable curry, Mexican chicken tacos and refried beans, Italian calzones and Italian soda, Irish corned beef and cabbage with Blarney stone bars, and Chinese eggrolls and fried rice.
Instill a love of cooking in the children of today by securing a spot in one of these classes. They might grow up to be the next Bobby Flay!
As Brian D. of Campbell, Calif. said on Yelp.com, "I have brought my daughter here for three years now, each summer. Shelley Ballard has been gracious enough to negotiate a deal for multiple classes, spread out over each summer, for us. My daughter loves it; enough that she is motivated to want her own restaurant when she gets older! In fact, she has used her knowledge to help prepare food in a neighborhood restaurant!"
For more information about courses or Cucina Bambini, call 408-564-7773, view the company on the web at http://www.cucinabambini.com or visit 1041 Lincoln Ave. in San Jose.
About Cucina Bambini
San Jose's kids activities and kids birthday parties provider, Cucina Bambini, opened in April 2008 and offers culinary education for ages three and up, for parents and children, for adults, and for parties and corporate events. It covers a wide range of cooking techniques, along with safe food handling, etiquette and nutrition.
###