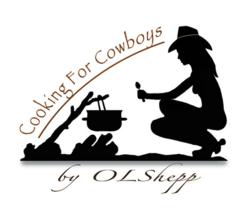 Healthy Cooking is so simple even a cowboy can do it!
Cody, Wyoming (PRWEB) May 15, 2013
Spring weather and sunshine are here, just in time to break free from your winter's hibernation. O.L. Shepp, a nurse/cowgirl from the wilds of Wyoming provides simple recipes, short stories and cowboy lore in her upcoming book, Cooking For The Health Of It; 7 Steps To Cowboy Up Your Cooking.
Wellness through healthy cooking is simple, Free and within everyone's reach.
Cooking For The Health Of It, originated as a cooking column. The research began with recipes; the recipes O.L. had in her collections, her mother's collection, her mother's and so on.
The recipes discovered are grand; the stories behind the recipes are entertaining and the characters divine.
The tales that unraveled while she researched and wrote became much more than recipes, much more than cooking. The people who do the cooking, who shared their stories and their recipes, do so much more.
Much more work, love and living go into cooking for cowboys than imaginable.
Pappy's Hobos
The summer season is filled with outing and adventures to the back country. Fishing trips to high mountain lakes, or cattle drives. The cattle drive chore, a necessity to move animals to fresh feed can be a fun way to spend one's days, though not nearly as fun as horse packing trip near the Great Divide. Either camping out under the open sky, or in a comfy camp trailer, the crew has to eat.
Pappy's Hobos are the perfect first night's dinner when the crew pulls in late to camp with tired horses, sore bodies and fading daylight.
Hobos, are prepared in advance and simply need to be tossed with care onto the glowing coals of the fire.

1 lb lean ground burger or sausage
5 potatoes baked
2 cups steamed broccoli
1 cup shredded cheddar cheese
Slice baked potatoes open. Remove 3-4 Tbs. of potato.
Refill with browned and drained burger, heap with broccoli and cheese, double-wrap tightly in tinfoil.
Roast 20 minutes in glowing coals of the campfire at camp. Salt and pepper to taste. Enjoy!
Cowboy Up, Your Kitchen will help all cooks, parents, grandparents, caregivers, friends and families cook healthier so that loved ones are completely nourished.
Cowboys spend as little time as possible in the kitchen.
Cowboys are not any healthier than anyone else. Cowboys do get the flu and they should get vaccinated and visit the dentist on a yearly basis.
Good food and happy tummies are a "cowboys" preventive medicine. Cowboys and Cowgirls like to eat and will come in from a busy day for a good meal, because being healthy is not about eating less. Getting healthy is about eating more of the right foods.
Make this your season to discover wellness through healthy cooking. Opt in at olshepp.com for your free humorous prelude to Cooking For The Health Of It, by June 1st.