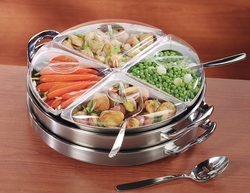 The Electric Lazy Susan Buffet™ is a kitchen appliance that every family can use. It's great not just for family dinners, but is also a perfect serving solution for large gatherings like holiday parties
Green Bay, Wisconsin (PRWEB) November 2, 2009
Nostalgia Products Group, LLC is pleased to introduce the first Electric Lazy Susan Buffet™ server. This innovative food warmer has a stone inside its base that retains heat so food stays warm for up to an hour after the cord is detached. It has a suggested retail price of $99.99 and is available through most fine retail outlets - just in time for the holidays.
With the Electric Lazy Susan Buffet™, the possibilities for serving are virtually endless. The appliance breaks down to a warming tray, large buffet pan and four separate covered chafing dishes, giving the user a variety of options for serving. It is like having three units in one.
Perfect for breakfast, lunch, dinner, side dishes or desserts, families will love how easy it is to serve themselves off the buffet server as the unit swivels on its base. The chafing dishes can separate to be made part of a beautiful table setting. Crafted of resilient and easy-to-clean stainless steel, this product is designed to provide years of enjoyment.
"The Electric Lazy Susan Buffet™ is a kitchen appliance that every family can use. It's great not just for family dinners, but is also a perfect serving solution for large gatherings like holiday parties," says Gregg Bond, President of Nostalgia Electrics.
Features Include:

Four 1.5-quart stainless steel chafing dishes
Four clear, polycarbonate lids with steam escape ports
Stainless steel base can be used as stand alone warming tray
Heat-retaining stone in base serves as the perfect food warmer for up to 1 hour
Rotation ring allows trays to turn on base
Detachable Electric Cord
Chrome-plated handles
The ELECTRIC LAZY SUSAN BUFFET™ is distributed by:
Nostalgia Products Group, LLC
1471 Partnership Dr.
Green Bay, WI 54304-5685
About Nostalgia Products Group, LLC:
Nostalgia Products Group, LLC, designs, manufactures and markets the Nostalgia Electrics brand of small electric appliances. Nostalgia Products Group, LLC also develops a wide range of innovative products to excite consumers and retailers alike, such as the new Electric Lazy Susan Buffet server food warmer. Their products are sold through all major channels of distribution from both within the United States and worldwide. Retail and e-retail sales include all major department store chains, home shopping networks, catalogs, and e-commerce companies. Internationally, NPG products carry the GS and SSA electrical approvals. They ship to over 30 countries worldwide. Services include product development, sales, marketing, warehousing and distribution. Please visit Nostalgia Products Group, LLC online at: http://www.nostalgiaelectrics.com.
For more information, please contact:
Sales and Marketing
Nostalgia Products Group, LLC
Phone: 920.337.9800
Fax: 920.337.9984
E-mail: sales(at)nostalgiaelectrics(dot)com
# # #