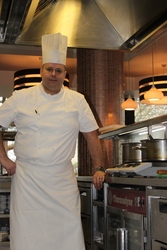 Right from the start it showed great 'holding power' all day, breakfast, lunch and dinner
(PRWeb UK) April 16, 2010
James Chapman has been winning plaudits for his cuisine at the prestigious Sopwell House hotel, country club and spa near St Albans. But while his creativity has gained glowing reviews, behind the scenes three new 'assistants' have played a key role in helping him deliver the cooking quality, productivity, efficiency and above all customer satisfaction that have contributed to the hotel's reputation.
The 'assistants' are Thermodyne low-temperature cooking units from Advance Catering Equipment. Thermodyne is a remarkable new system designed for slow-cooking, holding and reheating almost any food. And James Chapman says admiringly they are "complete all-rounders" that have radically helped the hotel's food service, from breakfast right through to 500-person banquets.
Shortly after James Chapman was appointed in 2008 he wanted to upgrade the dining and banqueting operation to cater for the hotel's growing popularity. After hearing about the new Thermodyne system he decided to try it first in the all-day brasserie, where the breakfast-to-midnight service would severely test any catering equipment.
Thermodyne slow-cooks, holds and reheats foods without overcooking or drying out. Unlike conventional and combi ovens, where the heat is introduced by air to the cabinet cavity, it transfers the heat by conduction from the shelves of the oven. This means the heat is more directly transferred to the food and the effect is gentler, holding the food at the perfect serving temperature, often for hours, without overcooking or drying out.
Installing the large Thermodyne model 700 CT in the all-day brasserie was an instant success, says James. He barely needed a trial to recognise its value.
"Right from the start it showed great 'holding power' all day, breakfast, lunch and dinner," he says. "Since getting it, we've never had a complaint about food temperature - even at breakfast where it holds hot breakfast items perfectly throughout the long morning service."
But this was only the first of many benefits, and the results not only surpassed his expectations, but delivered even more than those promised by Thermodyne. "It gave me consistency, extra moistness, visual appeal, greater taste, better temperature and better quality," he adds.
Immediately impressed, he soon ordered another Thermodyne 700 CT unit for the main dining kitchen, and it helped to enhance the a la carte menu: For example, he relies on it for slow-cooked meats such as belly of pork or lamb shanks for greater succulence. At the same time as cooking and holding the meats he can even create specialist items such as air-dried vegetable crisps, since there is no added humidity.
Furthermore, cleaning up during and after service became easier and quicker, because they were using Thermodyne for so many foods, and using many fewer pots, pans and other equipment.
James' final move was to install a smaller Thermodyne 300 OC unit for the hotel's pastry and desserts kitchen. "We use it for so many things even there - meringues, holding scones for afternoon tea, fruit crumbles or to create apple crisps - all at the same time!"
Perhaps the biggest benefit of Thermodyne overall to the hotel is that, in James Chapman's words, "It's simply an all-rounder. I can use it for the finest a la carte, for breakfast, for starters, main courses and desserts, for warming, slow cooking and holding, and all perfectly. Even banquets would be so much harder if we didn't have Thermodyne," he says. "It's completely versatile and we use it for so many different techniques."
"After nearly a year's use, I can't imagine us doing without Thermodyne," he concludes. "It's a must-have bit of kit for any kitchen."
Advance Catering Equipment is part of the Advance Group. For more information on the Thermodyne range call 0800 597 7427 or visit http://www.advancegroupuk.co.uk
Press Enquiries:
Toni Turner or Alison Haynes at The Publicity Works: 01263 761000
Email: sales(at)advance-catering(dot)co(dot)uk
Ian or Nuala at Advance Catering: 0800 597 7427
Editors notes
What is Thermodyne?
Thermodyne is a low-temperature system for holding, slow cooking or reheating without overcooking or drying out. Used as a hot cupboard it maintains food quality better and for longer than traditional methods. As a slow cooker it produces superior results, even with cheaper cuts of meat.
Unlike conventional ovens and hot cupboards, where the heat is introduced to the cabinet cavity, usually by fan, with Thermodyne the heat is transferred by conduction from glycol liquid within the shelves of the oven. This 'Fluid-Shelf' technology delivers heat to each individual shelf in the cabinet, so all the food is gently held at precise temperatures and maintained at the same high quality.
Thermodyne eliminates danger zone temperatures, the most common food safety concern. With Fluid Shelf technology, continuous door openings do not cause temperature loss, as the Fluid Shelf continues to deliver accurate temperatures to the food, ensuring the highest level of food safety possible.
Thermodyne is probably the easiest-to-use hot cupboard/slow cooker ever. So much so that the American manufacturer claims it is 'dummy-proof'. There are no confusing dials or controls – it's either on or off. Little or no staff training is required.
And it's efficient. In the USA Thermodyne has Energy Star approval.
Sizes: Thermodyne is available in a choice of sizes, from compact counter-top units to high volume, dual cabinet models.
# # #