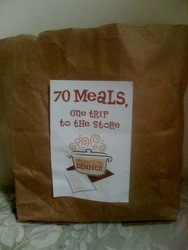 Shop Smart to Make More with Less
Barrington, IL (PRWEB) October 27, 2009
As the old saying goes "You can give a person a fish and feed them for a day, or teach them to fish and feed them for a lifetime." Cookbook author and cooking instructor Kelly Donlea does just that for people struggling to answer the "what's for dinner?" question night after night after night.
Donlea takes the "ingredient clutter" out of many everyday recipes, streamlining ingredients so you can much more easily have on hand what you need for dinner success. Other cooking instructors, 99% of cookbooks, and the majority of cooking shows present one recipe at a time, with a unique set of ingredients. This answers one night's dinner needs. Those facing a potential of 20 years (more than 7,000 days) of feeding their families dinner need more than one night's strategy at a time. What Donlea offers her audience, through her "Shop Smart to Make More with Less" program and cookbook 70 Meals, One Trip to the Store, are strategies for a lifetime of dinner success. She takes a step back from one night's dinner, and teaches her audience to shop smart, know their personal success shortcuts, and to employ an offensive "I can do this" rather than defensive "ugh, dinner" approach.
Though she teaches in studios, and classrooms, Donlea has lately been bringing her program into people's homes for individual and group instruction, and has become a favorite "Mom's Night Out" activity. On November 12th, Donlea will take her program to an in-home meeting of a Palatine, IL Moms Meetup group. She will teach the 20 Meetup members strategies for manning their kitchens on the offensive at dinnertime, including them hands-on in the cooking process. According to Donlea, "Many people think of dinner as an annoyance. If they instead, can learn to tackle a hot, healthy, homemade dinner with a lot less stress, and a feeling of accomplishment, while also saving time and money, it brings a needed victory for the everyday woman struggling with today's busy lifestyle."
Donlea enjoys how much people are amazed at how much she can make with how little she brings to a class. A typical class menu includes an appetizer, a soup and two main courses from a small stash of ingredients that cost well under $50 total. In addition to some fresh meat, Donlea uses a versatile combination of what she calls "Smart" ingredients, that includes canned diced tomatoes, chicken broth and black beans, that fit into one average sized grocery bag [photo attached]. Radio host Jessie Menendez who hosted Donlea doing her "Shop Smart to Make More with Less" program on Oct. 3, 2009, likened Donlea to a pop-up book, saying "you came in here with barely anything and "Pop!" out came all this delicious food."
Kelly Donlea's time-tested cookbook provides more than just delicious recipes. The 70 Meals, One Trip to the Store plan eliminates stress by providing long-term and short-term shopping lists, and integrating a flexible meal plan. Donlea says that customer feedback "has been amazing."
"There's an overwhelming sense of peace in knowing that you have options," says Jean Masukevich-- Yoga instructor and mother-of-four, "… not to mention having the ingredients on hand."
Donlea continues to present her programs all across the Chicagoland area in public venues, or group parties and individual instruction in people's homes. To schedule a taping, join an event or learn more about "Shop Smart to Make More with Less" visit http://www.organizingdinner.com, or contact us at 847-302-1531.
###