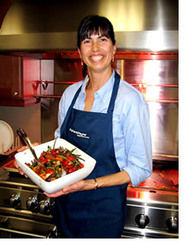 It doesn't take all day, as I thought, to prepare a great meal. I learned not to be afraid of trying different things in the kitchen. My fear of buying, cooking and eating more fish is gone. Astrid is a dynamic teacher!
Toronto, Ontario (PRWEB) March 25, 2009
Eating fish is good for you but what about being an environmentally conscious grocery shopper too? Being nutrition savvy and ecology minded, Marlene J. of Mississauga thought she was choosing wisely when she picked frozen Wild Pacific Salmon. It's Canadian and good to eat fish, right? But making choices that are good for the environment - well that takes some educating.
It turns out that the Wild Pacific Salmon is a product of China. When a well known Canadian canning company was called, they explained that the fish gets caught in the international waters of the North Pacific. Cut into chunks on board ship, it's then transported to China for deboning, skin removal, portioning, then boxed, frozen and shipped to Canada.
So, eating fish is go http://www.torontocookinghealthy.com/EducationTraining.html od for you, but not good for the environment? Astrid Strader, Professional Home Economist and Chef with Oasis Institute for Healthy Living Inc. explains that certain farmed fish are the way to go. There's only a small carbon foot print we make when we choose 'local' farmed trout compared to the huge one when choosing the salmon from China. Best too because it's fresh and therefore, more delicious and an excellent source of omega-3 (only marginally less than salmon). Not all farmed fish are the best choices however, and that's Astrid strength - she simplifies the maze of food and nutrition information into practical bites for consumers.
For example, did you know that whole wheat isn't whole grain? A visit through your favorite grocery store can be a real eye opener. Anna B. of Toronto revealed, "I always thought I knew a fair bit about nutrition, I thought I was choosing a good bread, but the grocery store tour that Astrid hosted really surprised me, and I will change my eating habits".
When teaching nutrition and healthy cooking classes to college students and various audiences for over the past 10 years, she says, "I'm frequently amazed at the misconceptions around many nutrition topics. Basic understanding of fats, protein and especially carbohydrates is not common. However, understanding these in terms of food choices are part of the path to wellness."
Also a certified Horticulturist, Astrid has earned a reputation for understanding the food distribution chain, from grower/producer to manufacturer, to retailer or foodservice establishment, and ultimately, to the consumer. This knowledgeable perspective helps tailor the nutrition education and consulting services to clients, as well as guide services such as nutrient analysis of food products.
Author of dozens of articles and published in the Canadian Journal of Dietetic Practice and Research, Astrid has demonstrated success of an educational model which changes the way people eat - via cooks and chefs. Since then, Oasis Institute for Healthy Living has been involved with numerous nutrition curriculum development projects that include menu planning, healthy food preparation for restaurants, institutions, colleges, high schools, and various public agencies which promote healthy living, with Astrid as its Director leading the way.
Other high profile clients have been the Heart and Stroke Foundation of Canada, Statistics Canada, Perth & Smiths Falls District Hospital, and the YMCA-YWCA.
As a seminar presenter, 'lunch and learn' food demonstrations are wonderful opportunities for companies to support employee wellness. Prevention is key to reducing lower productivity and reducing health care costs. Participants are introduced to an array of herbs and spices as one of the secrets to healthy cooking. Using well designed recipes that make healthy cooking fast and easy, participants learn how to choose ingredients that are more nutritious and are shown cooking techniques that yield maximum flavour.
"It doesn't take all day, as I thought, to prepare a great meal. I learned not to be afraid of trying different things in the kitchen. My fear of buying, cooking and eating more fish is gone. Astrid is a dynamic teacher!", exclaims Marie V. of Smiths Falls, Ontario.
Toronto cooking healthy, eating healthy consumer level classes are offered regularly in Mississauga. It's a great way to have some fun, try new things and stay on the track to wellness - for yourself, your family and your environment.
For more information on the above classes and services please visit the Oasis Institute for Healthy Living website or email info (at) torontocookinghealthy (dot) com.
###