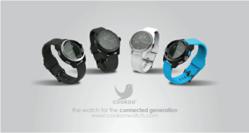 It's exciting to be able to make these additions and make the watch even more powerful
—Peter Hauser
KENMORE, WASH. (PRWEB) July 05, 2012
The COOKOO (TM) watch will finish its Kickstarter campaign July 7, wrapping up one of the most successful smart watch crowdfunding campaigns to date.
With pledges of over $275,000 as the funding deadline nears, the COOKOO watch continues to add new features to entice backers. If the pledge level reaches at least $300,000, Peter Hauser, director at ConnecteDevice and creator of the COOKOO watch, will be able to implement the technology needed to play, pause and skip music on the users' smartphones.
"We have a lot of neat technology available for the COOKOO watch, and as we progress with this campaign, it's exciting to be able to make these additions and make the watch even more powerful," says Hauser.
The Kickstarter campaign has featured many different updates including different colors of the COOKOO watch, a partnership with the SleepDrops app and even a companion Bluetooth 4.0 accessory, the COOKOO keychain.
The newest update reveals a reward level for a select group of the most passionate of backers. Hauser is offering five backers the opportunity to join the COOKOO watch team in Hong Kong, China for the official product launch party in November. This reward package includes one of the first five COOKOO watches made in each of the available colors (black on black, brushed stainless on black, white, blue and pink, plus a special Kickstarter Edition), three nights' accommodation and free travel from anywhere in the world. The private party will give backers a chance to see the whole story behind the watch.
"Kickstarter has certainly been a huge boost in confidence and excitement for our team," Hauser said. "We anticipated reaching our goal of $150,000, but we are now very close to doubling it, which would move us faster along in the development of the COOKOO watch than we forecasted."
The COOKOO watch campaign ends at 6:09 AM PST and is the final chance to get a COOKOO watch at a discounted rate as the retail pricing will rise after Kickstarter.
About ConnecteDevice
ConnecteDevice, with offices in Kenmore, Washington, is a cutting-edge technology and engineering company that has teamed up with world-class manufacturers and design experts to create the COOKOO watch and smart keychain. ConnecteDevice aims to deliver solutions to real-world problems using innovative technology and execution. The COOKOO watch is designed to be an extension of your mobile device using Bluetooth 4.0 capabilities. The engineering, design and capability of the COOKOO watch exemplify ConnecteDevice's attention to detail.
COOKOO is a registered trademark of ConnecteDevice Limited. Bluetooth is a registered trademark of the Bluetooth SIG and is used under license.
# # #