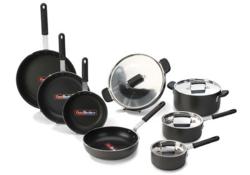 Titanium-Cookware.com has sold thousands of sets of Titanium Cookware to consumers, restaurants, churches, and schools.
New York City, NY (PRWEB) June 29, 2011
Titanium-Cookware.com launches an incredible new style of cookware that is 10 times more non stick than Teflon, yet uses no Teflon. The cookware instead uses titanium and ceramic as the main materials used in its production. These two materials have both been known to be safe for many years.
The product demonstration is amazing, and shows a titanium frying pan doing incredible things that with food that seemed impossible beforehand. The demo video even shows the demonstrator blowing an egg out of the pan while it is cooking with absolutely no butter or oil. In addition, this cookware has attracted consumers that are worried about the health risks associated with using normal nonstick cookware.
In the past 10 or more years, there have been numerous reports of toxins and other harmful byproducts found in Teflon coated pots and pans.
In 2004, the company that manufactures Telfon (DuPont), paid out over 100 million dollars to 50,000 residents living near one of their plants. The EPA found eight violations committed by DuPont for not disclosing safety information on the harmful ingredients (PFOA) in Teflon products.
In the last 5 years, there has been numerous research done that suggests Teflon can cause cancer and respiratory problems in adults and especially children. Past that, Teflon is known to be harmful and possibly deadly to birds, dogs, and other pets.
The convenience of non-stick cookware has been enjoyed by consumers for its easy cleanup properties, but as most consumers are now finding out, Teflon pans carry a possible health risk, wear out very quickly, are not oven safe or dishwasher safe, and are easily scratched.
Consumers have been waiting years for a suitable replacement for this type of cookware. Well, the wait seems to be over.
Titanium Cookware, sold by Titanium-Cookware.com, is the latest breakthrough in technology for non-stick cookware.
Here are some of the notable differences between Titanium Cookware and Teflon:

Titanium Cookware does not contain PFOA (The harmful agent in Teflon associated with health problems).
Titanium Cookware is oven and dishwasher safe.
Titanium Pans are much stronger, as titanium is the lightest and strongest metal known to man, and do not wear out or flake and peel like Teflon.
Titanium Cookware has a 30 year warranty with no shipping costs or limitations
Titanium Cookware is about 25 times more nonstick than Teflon, allowing one to cook with absolutely No oil or butter
Food does not burn or dry up quickly using Titanium Cookware
The leading online retailer of Titanium Cookware is Titanium-Cookware.com. Since the invention of this new "space age" like cooking technology, Titanium-Cookware.com has sold thousands of sets of Titanium Cookware to consumers, restaurants, churches, and schools. It as also known as ceramic titanium cookware
This amazing cookware is also taking the health conscious community by storm, as weight loss success stories have been pouring in from those using this unique new style of cookware.
Currently, this cookware is not sold in stores. The only way to purchase is online or at live demonstrations at cooking events.
A live video demonstration can be seen at Titanium-Cookware.com, and live chat operators are available to answer questions regarding the cookware while browsing the website.
###