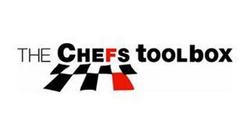 With careful supervision, cooking can be just like an edible craft project
Sydney, NSW (PRWEB) January 17, 2008
We all know kids love to mess around in the kitchen. Now The Chefs Toolbox, a party plan company specialising in high quality kitchenware, has created some fantastic tools to help them nurture their inner superstar Chef. The new range of quality kids' kitchen utensils will have them cooking up a storm in no time.
The Kids' Toolbox (RRP AUD$45) features safe yet functional grown-up tools in just the right size for little hands. There's a 1L melamine measuring jug with non-slip rubber base and a choc-chip recipe printed on the inside, as well as a silicone spatula, silicone whisk, rolling pin and four child-safe cookie cutters. Packaged in a gorgeous box, it makes a great gift.
The Flexi Shapes (set of 4) (RRP AUD$27.50) are brightly-coloured silicone pancake moulds in four fun shapes -- an aeroplane, a shoe, a footprint and a rabbit -- for making the coolest pancakes in town! The moulds, which come complete with a drawstring calico storage bag, can also be used to make frittatas, hash browns and rostis.
The Flexibake Teddies (set of 6) (RRP AUD$27.50) are flexible silicone moulds that are great for making cute cakes, muffins, chocolate crackles and ice-cream cakes. The set contains two blue, two yellow and two red teddy-shaped moulds.
The Kids' Apron (RRP AUD$20) will help the kids stay clean, even if the kitchen doesn't! It's 100 percent cotton, screen printed and double-hemmed for durability.
Cooking is one of the most fun and constructive activities you can share with your child: it unleashes their creativity, sets up healthy eating habits and teaches them a valuable survival skill for the future. If you teach your kids to cook now, they will eat well for life.
"With careful supervision, cooking can be just like an edible craft project," says Chris Chandler, cooking guru at The Chefs Toolbox. "If you need some ideas about what to cook, you'll find some great kids' recipes on our website, http://www.chefstoolbox.com.au".
The Chefs Toolbox kids' range can be purchased though their online store: http://www.chefstoolbox.com.au or through home Cooking Parties. The Chefs Toolbox will donate AUD$5 from every purchase from the kids' product range to the Children's Food Education Foundation.
About the Chefs Toolbox
The Chefs Toolbox brings new ideas to cooking at home by marrying great recipes with clever cookware to bring fabulous food into the home. The Chefs Toolbox offers top quality cookware through home cooking workshops and their online store. By providing free cooking workshops designed for modern lifestyles, The Chefs Toolbox aims to encourage an appreciation of great food and show that fabulous meals are easy with the right tools and a few simple techniques.
# # #