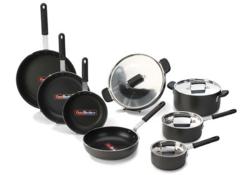 Titanium Cookware is also 10x tougher and stronger than normal non-stick cookware
Tampa, FL (PRWEB) September 15, 2011
With the loss of consumer satisfaction in regular non-stick cookware, consumers have taken to the latest breakthrough in cookware technology, Titanium Cookware. Yet many consumers are still wondering if this new style of cookware is significantly more durable than traditional non-stick cookware.
The most popular feature of Titanium Cookware, is that it is 10x more non-stick than Teflon pans, while at the same time not having the unhealthy toxins found in normal nonstick pans. However, a lesser known fact is that Titanium Cookware is also 10x tougher and stronger than normal non-stick cookware.
Consumers are used to regular non-stick pans chipping, peeling, flaking, and losing their finish and non-stick ability after continued use.
Titanium-Cookware.com has sold thousands of sets over the past year, and during that time they have been asked a lot of questions by inquiring potential customers. The most frequent question asked is pertaining to the durability.
Questions like, "Will food start sticking to the pan if I scratch it?"
Or the common, "Will the finish come off after years of use?"
To put the issue to rest, Titanium-Cookware.com has filmed a video in which they utterly abuse a 10 inch titanium skillet, then proceed to cook with it, showing that it is still good as new.
The video was released on the Titanium Cookware Youtube Channel.
The demonstrator in the video abuses a Titanium Skillet by:
** Scratching it thoroughly with a fork.
** Scouring it with a ball of steel wool.
** Brushing it with a wire brush (used for removing rust and paint).
** Slicing into it over a dozen times with a box cutter.
** Hammering the inside with a hammer several times.
After all this abuse, the demonstrator scrambles up two eggs and pours them in the titanium skillet with no butter or oil. As if the abuse wasn't bad enough, he proceeds to cook the eggs with no assistance from grease, butter, or spray. Just the egg and the pan.
Once the egg finishes cooking, he holds up the titanium frying pan and blows on the egg, and watches it fall right out of the pan. He did not even have to use a spatula.
These pieces of Titanium Cookware are made with some of the same technology found on space shuttles and high altitude military jets. This cookware is tough as nails, as this video showcases.
Titanium Cookware can be used on grills, high heat gas stoves, and is dishwasher safe.
Visit Titanium-Cookware.com for more information, or call (609) 222-4018 to order.
###