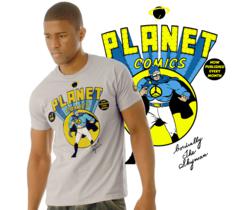 Who wouldn't want to have Spacehawk crushing a planetoid monster on their graphic tee?
(PRWEB) May 12, 2011
Before there was a Superman or a Batman, the safety of the free world was in the capable hands of Skyman, The Shield, and Rex Dexter of Mars. These five new, cool graphic tees celebrate their long awaited return.
Unfortunately, many of these super heroes never made it past the war years. nopooh, however, has changed that with the introduction of these cool, vintage graphic tees. "These shirts accurately and colorfully capture the original comic book design and feel," according to nopooh designer, Rob Tanner. "Who wouldn't want to have Spacehawk crushing a planetoid monster on their graphic tee?"
The original comic books featured full colored graphics and inventive title designs. nopooh has taken these features and combined them in a collage like fashion that recreates the vintage style of these pre-war designs. To accurately reproduce the look and feel of this artwork, nopooh took exceptional care to capture the intricacies of the original drawings and printed some of these cool tees in as many as seven different vibrant colors.
Brooklyn-based nopooh was founded in 2008 with the mission of producing high-end fashionable men's graphic tees. nopooh is the collaboration of graphic designer Rob Tanner and fashion and fine art photographer Mark Babushkin. nopooh tee shirt designs feature striking, well-designed graphics and function as stylish components of a man's contemporary casual wardrobe. nopooh's coolly classic, beautifully printed images are drawn from international iconography and vintage Americana, and always complement – never overwhelm – one's choice of attire. Very limited editions of each special nopooh graphic tee are hand screened on superior quality 100% cotton American Apparel tees.
For more information, visit nopooh graphic tees at http://www.nopooh.com/
###