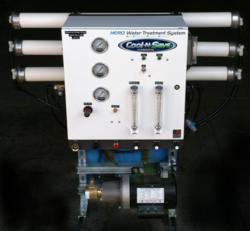 The monthly savings equates to thousands of actual dollars - more than enough to cover the cost of installation within the first 9 months.
Huntington Beach, CA (PRWEB) May 16, 2012
In the Summer of 2007, Rob Trujillo took a chance on what was then brand new energy saving technology called Cool-n-Save, from Greenway Design Group, Inc. (GDGI). "I am always in the market to find new, more efficient ways to save energy and costs," says Trujillo, president of International Rubber Products in Rancho Dominguez, CA. "I agreed to test the equipment and was eager to see the results."
Fast forward to the present time, Cool-n-Save is now an award-winning technology and Trujillo is still enjoying his savings. "Just as they promised, we have consistently posted average savings of 25% during the summer months when air conditioning usage is highest," he says. The monthly savings, according to Trujillo, equates to thousands of actual dollars, "more than enough to cover the cost of installation within the first 9 months."
Air conditioning experts admit that despite all of the technological advancements since Willis Carrier built the first air "chiller" in 1902, air conditioning systems still fall victim to hot air. Or more precisely, OUTDOOR hot air. Cool-n-Save is designed to efficiently solve this deficiency.
According to the U.S. Department of Energy, split system central air conditioning - the type envisioned by Carrier - is the most prevalent form of "air conditioning" in use by homeowners and commercial building owners today. Split system "AC" is characterized by copper tubing filled with compressed refrigerant gas. Tubing is gathered at either end into what are called coils that facilitate 'heat exchange' between the air inside the building and the air outside.
The ideal outdoor temperature for split system air conditioning is at or below 85 degrees Fahrenheit (F). Efficient heat exchange becomes increasingly difficult when the ambient air temperature rises above 95 degrees. According to HVAC industry documentation, for every one degree (F) over 95 degrees, the split system air conditioner loses about 1.5% efficiency. In most parts of the U.S. during most times of the year, the daytime rooftop temperature of commercial buildings is often well above 95 degrees (F); during summer months, temperatures soar to well over 110 degrees.
Cool-n-Save solves the 'hot air' problem by injecting micro mist into the air around the outdoor heat exchange coils. A process called "flash evaporation" causes most of the mist to evaporate almost instantly and lower air temperature before it reaches the coils. The dramatic decrease in temperature increases the AC unit's Energy Efficiency Rating (EER). Compressors run more efficiently and less frequently, thus less energy is used. Cool-n-Save may reduce energy cost by as much as 30%.
To protect air conditioning equipment from mineral buildup and corrosion, Greenway Design Group deployed its patent-pending high efficiency four-stage water treatment and filtration system. Designed by Greenway for its commercial Cool-n-Save evaporative pre-cool system, the water treatment removes approximately 90% of total dissolved solids from water with up to 1,000 PPM of dissolved solids.
The company also reports that their water treatment system is also suitable for other commercial and industrial purposes. The design is compact and lightweight and "plug-and-use" ready; all primary components are rack-mounted and ready for activation. The company also reports that it offers additional configurations for just about any water treatment requirement.
According to Trujillo, in addition to lower energy cost for air conditioning, there are no signs of calcium build up or corrosion - no degradation on any of his air conditioning equipment. "I am pleased with the installation and performance of Cool-n-Save and the service that Greenway Design Group, Inc. has provided over the years," he adds.
About Greenway Design Group
Greenway markets their pre-cool technology under the trademark "Cool-n-Save." Independent studies field studies from Nevada and Costa Rica show that Cool-n-Save evaporative pre-cooling systems may produce energy cost savings as high as 30%, with an average savings of about 26% from air conditioning use during peak heat seasons. The company has been developing pre-cool misting technology since 2005. Greenway received a "green engineering" award co-sponsored by TechAmerica and Harvey Mudd College in 2011. For more information, call 714-892-0011 or visit http://www.coolnsave.com and http://www.greenwaydesigns.com.
FORWARD-LOOKING STATEMENTS
THIS PRESS RELEASE CONTAINS "FORWARD-LOOKING STATEMENTS." FORWARD-LOOKING STATEMENTS ARE STATEMENTS CONCERNING PLANS, OBJECTIVES, GOALS, STRATEGIES, EXPECTATIONS, INTENTIONS, PROJECTIONS, DEVELOPMENTS, FUTURE EVENTS, OR PERFORMANCE, UNDERLYING (EXPRESSED OR IMPLIED) ASSUMPTIONS AND OTHER STATEMENTS THAT ARE OTHER THAN HISTORICAL FACTS. THESE FORWARD-LOOKING STATEMENTS ARE ONLY PREDICTIONS. NO ASSURANCES CAN BE GIVEN THAT SUCH PREDICTIONS WILL PROVE CORRECT. ACTUAL EVENTS OR RESULTS MAY DIFFER MATERIALLY. FORWARD-LOOKING STATEMENTS SHOULD BE READ IN LIGHT OF THE CAUTIONARY STATEMENTS AND RISKS THAT INCLUDE, BUT ARE NOT LIMITED TO, THE RISKS ASSOCIATED WITH A SMALL COMPANY, OUR COMPARATIVELY LIMITED FINANCIAL AND MANAGERIAL RESOURCES, OUR INABILITY TO MARKET AND SELL OUR LIMITED PRODUCT LINE IN SUFFICIENT VOLUMES THAT MAY ALLOW US TO ACHIEVE AND MAINTAIN PROFITABILITY AND POSITIVE CASH FLOW, THE UNCERTAINTY OF MARKET TRENDS, THE INTENSE COMPETITION FACED FROM OTHER CURRENT AND FUTURE TECHNOLOGIES AND THE UNCERTAINTIES OF COMPETITIVE PRESSURES WE FACE. THESE OR OTHER RISKS COULD CAUSE ACTUAL RESULTS TO DIFFER MATERIALLY FROM THE FUTURE RESULTS INDICATED OR IMPLIED IN SUCH FORWARD-LOOKING STATEMENTS. WE UNDERTAKE NO OBLIGATION TO UPDATE OR REVISE SUCH STATEMENTS.