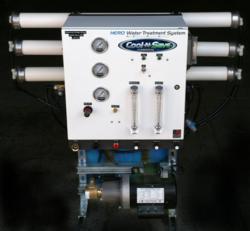 The revenue picture for Greenway has changed compared to where we were last year.
Huntington Beach, CA (PRWEB) August 23, 2012
Greenway Design Group, Inc. (GDGI) has experienced a "period of significant growth," says Ben Lefrancois, President and CEO of the Huntington Beach, CA-based company. Since announcing the launch of its ESA (Exclusive Supply Agreement) Dealer program in June of this year, sales opportunities for Cool-n-Save have increased sharply compared to the same period last year.
 
Installations for Korea Telecom in South Korea were recently completed. Installations for two banks in Costa Rica and Kash Casinos in Mexico are underway. Other orders in Oklahoma, Texas and Nevada either are also completed or are underway. "And there's more on the way," comments Lefrancois.
 
"The revenue picture for Greenway has changed compared to where we were last year. We believe that the change is due in a large part to price increases for electricity. In Mexico and the rest of Latin America, energy costs to business are moving higher, faster than in the U.S."
 
The Comisión Federal de Electricidad (CFE) in Mexico reports that commercial electricity costs have reached $0.20 per Kilowatt Hour (kWh) and is trending higher. In Costa Rica, commercial and industrial price of electricity ranges from $0.15 to $0.23 per kWh, according to data from the Latin American Energy Organization (OLADE). The Korea Power Exchange (KPX) in South Korea reports an average consumer price of $0.07, but the country is experiencing higher seasonal temperatures and anticipating higher cost of energy. According to data released July 2012 by the U.S. Energy Information Administration (EIA), excluding Hawaii, the average retail price for electricity paid by commercial and industrial users in the United States is about $0.09 per kWh and is expected to rise with the rate of inflation through the end of the decade. The average price for commercial and industrial electricity consumers in Hawaii is $0.33.
 
Lefrancois notes that demand for Cool-n-Save should be higher wherever the cost of electricity is on the rise. "We believe that demand is softer in the U.S. because we haven't seen the kinds of prices that they pay in the south. And thanks to our ESA dealers, we have been able to promote Cool-n-Save to businesses looking for ways to reduce consumption."
 
He also points out that sales for many of the installations that have been achieved this year began with tests that took place this year. "Property owners, no matter what country they reside, weigh their expenses carefully," says Lefrancois. "The demonstrations that we're conducting this year may actually turn into sales for next year, but in the meantime we are enjoying a surge in interest."
 
Cool-n-Save is an award-winning and patented energy conservation innovation that uses evaporation to reduce HVAC energy consumption by as much as 30%. The company has been developing evaporative pre-cool misting technology for commercial and residential air conditioning since 2005. The company recently won the Harvey Mudd College/TechAmerica High-Tech Innovation Award for Green Engineering. Cool-n-Save is available for commercial and residential air conditioning systems. Commercial Cool-n-Save systems feature HERO, a high-efficiency turn-key water treatment and mechanical filtration system also patented by the company. Cool-n-Save is manufactured and marketed in the U.S.A. For more information about Greenway Design Group, Inc. and Cool-n-Save, call 714-892-0011 or visit http://www.coolnsave.com and http://www.greenwaydesigns.com.
FORWARD-LOOKING STATEMENTS
THIS PRESS RELEASE CONTAINS "FORWARD-LOOKING STATEMENTS." FORWARD-LOOKING STATEMENTS ARE STATEMENTS CONCERNING PLANS, OBJECTIVES, GOALS, STRATEGIES, EXPECTATIONS, INTENTIONS, PROJECTIONS, DEVELOPMENTS, FUTURE EVENTS, OR PERFORMANCE, UNDERLYING (EXPRESSED OR IMPLIED) ASSUMPTIONS AND OTHER STATEMENTS THAT ARE OTHER THAN HISTORICAL FACTS. THESE FORWARD-LOOKING STATEMENTS ARE ONLY PREDICTIONS. NO ASSURANCES CAN BE GIVEN THAT SUCH PREDICTIONS WILL PROVE CORRECT. ACTUAL EVENTS OR RESULTS MAY DIFFER MATERIALLY. FORWARD-LOOKING STATEMENTS SHOULD BE READ IN LIGHT OF THE CAUTIONARY STATEMENTS AND RISKS THAT INCLUDE, BUT ARE NOT LIMITED TO, THE RISKS ASSOCIATED WITH A SMALL COMPANY, OUR COMPARATIVELY LIMITED FINANCIAL AND MANAGERIAL RESOURCES, OUR INABILITY TO MARKET AND SELL OUR LIMITED PRODUCT LINE IN SUFFICIENT VOLUMES THAT MAY ALLOW US TO ACHIEVE AND MAINTAIN PROFITABILITY AND POSITIVE CASH FLOW, THE UNCERTAINTY OF MARKET TRENDS, THE INTENSE COMPETITION FACED FROM OTHER CURRENT AND FUTURE TECHNOLOGIES AND THE UNCERTAINTIES OF COMPETITIVE PRESSURES WE FACE. THESE OR OTHER RISKS COULD CAUSE ACTUAL RESULTS TO DIFFER MATERIALLY FROM THE FUTURE RESULTS INDICATED OR IMPLIED IN SUCH FORWARD-LOOKING STATEMENTS. WE UNDERTAKE NO OBLIGATION TO UPDATE OR REVISE SUCH STATEMENTS.