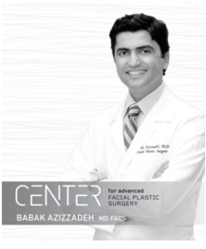 Los Angeles, California (PRWEB) May 12, 2012
Beverly Hills facial plastic surgeon, Babak Azizzadeh, MD FACS, recently debuted CoolSculpting at his practice, the CENTER For Advanced Facial Plastic Surgery. CoolSculpting is a new non-invasive FDA-cleared device that removes fat without surgery.
CoolSculpting received FDA clearance in September 2010 for non-surgical reduction of fat for the flank area, or love handles. This week CoolSculpting received further FDA clearance for treatment of the abdomen.
This new FDA clearance affords patients with greater treatment possibilities. CoolSculpting is clinically proven to effectively eliminate stubborn fat on your abdomen and love handles. The best candidates for CoolSculpting are those who are in relatively good shape, but have modest areas of fat bulges they would like to remove.
The revolutionary procedure is designed to freeze away stubborn fat. CoolSculpting uses controlled cooling to target and eliminate stubborn fat. This cooling technology crystallizes your fat cells and then they are naturally eliminated from your body. CoolSculpting is a non-invasive treatment, requiring little to no downtime after the procedure.
For more information about Los Angeles CoolSculpting treatments visit Dr. Azizzadeh's website: http://www.facialplastics.info/coolsculpting.html. If you decide CoolSculpting is the treatment for you, call our office and schedule an appointment - 310.657.2203. As an introductory special, mention this press release to receive 10% off your Beverly Hills CoolSculpting treatment paid in May 2012.
Dr. Babak Azizzadeh, the Chairman and Director of the CENTER for Advanced Facial Plastic Surgery in Los Angeles, is a Harvard-trained facial plastic surgeon, specializing in cosmetic and reconstructive plastic surgery of the face, eyes and nose. He is double board-certified by the American Board of Facial Plastic and Reconstructive Surgery as well as the American Board of Otolaryngology-Head & Neck Surgery. His expertise in cosmetic and reconstructive plastic surgery has made him one if the most sought-after surgeons in the country.
He has written 5 medical textbooks, lectured around the world and been featured in national media outlets including The Oprah Winfrey Show, The Doctors, The New York Times and Discovery Health for his extensive knowledge in facial plastic surgery.
Located in the heart of Beverly Hills, the CENTER provides our patients with the most comfortable and technologically advanced facilities in the field of medicine. For more information about the CENTER for Advanced Facial Plastic Surgery visit http://www.facialplastics.info