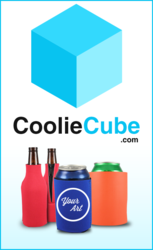 Fort Wayne, Indiana (PRWEB) May 31, 2012
The summer months are officially here and the temperature is only going to continue to rise. Coolie Cube keeps the hot out of the cold. What could be worse than sitting outside in the humid air, with the hot summer sun beating down? There is only one thing; taking a drink of a refreshing, ice-cold beverage only to discover that the sun has brought it to an almost boiling temperature.
Is there not a solution for the warm beverage conundrum?
Thankfully someone invented the can coolie. Although the inventor of the coolie may be debated, the ingenuity of this simple drink jacket is unquestionable. Coolies keep both hot and cold beverages at the desired temperature, protects hands, furniture and is easily compactable while on the go. Do not let the scene, described previously, happen to consumers. Save a loyal customer from the dreaded warm beverage, by adding can coolies to the summer marketing mix.
The can coolie is the perfect cornerstone to almost every outdoor activity. A custom designed koozie is the most valuable and cost-effective summer promotional product. What defines successful promotional merchandise? The definition of an effective promotional item is a branded product that the consumer sees value in and would have purchased. When companies take time to consider consumers' needs in the marketing mix, it pays off in far bigger returns. In the hot months of summer, people prefer cold drinks; which makes coolies one of the most effective promotional product for the summer months.
The warm weather continues to creep in. The hot, humid, sunny summer months are here and do not plan on leaving for a while. Listen to consumers and give sales a boost by adding can coolies to the marketing mix.
About Coolie Cube
Coolie Cube, a division of JH Specialty, Inc. provides a practical solution to all your promotional needs. It is a full-service marketing communications company based in Fort Wayne, Indiana. Founded by John Henry III in 1998, the company specializes in the utilization of technology in social media marketing applications including, digital marketing, email marketing, search engine optimization, events and promotional products fulfillment, website design, and web development. JH Specialty provides marketing solutions for a variety of clients from Fortune 500 companies to Mom and Pop shops across the United States.