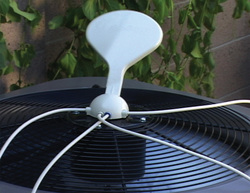 Cool-n-Save creates a shield of cool air that insulates AC systems from hot outdoor air. Your AC system will work faster and more efficiently when the air is pre-cooled, especially on very hot days when you need it most.
Huntington Beach, CA (PRWEB) June 19, 2010
Just as summer gets underway, Greenway Design Group, Inc. announces special pricing for its popular Cool-n-Save pre-cool system that can save up to 30% on the cost of running air conditioning systems.
Cool-n-Save pre-cool systems have been proven to significantly reduce energy consumption in residential and commercial central air conditioning systems. It's a low-cost energy saving solution that is easy to install with no tools, no electricity, and 5 easy steps. See Video - http://www.coolnsave.com/flash/cool-n-save-quick-assemble.html
How Does Cool-N-Save Pre-Cooled Air Save Money?
Cool-n-Save commercial systems are far more complex and robust in terms of performance than Residential pre-cool systems, however both work under the same basic concept. Cool-n-Save helps air conditioning do its job better by pre-cooling the air around the outdoor condensing unit. When the AC condenser turns on, water passes through our proprietary Cool Release water treatment system to disperse calcium and other minerals found in the home water supply. Then the treated water is converted into micro mist and injected into the air around the AC unit. The mist evaporates almost instantly, removing excess ambient heat from the air before it reaches the condenser coils. The pre-cooled air helps AC systems work more efficiently and use less energy. Buildings and homes cool faster and owners save money in energy and maintenance costs. See Video - http://www.coolnsave.com/flash/cool-n-save-easy-way-to-cool-your-home.html
The amount of energy savings depends upon the climate, weather, and the condition and size of the heat exchange unit. According to many Cool-n-Save commercial customers, the average savings is about 24%. Some customers have reported savings over 30%. Residential customers also report savings as high as 30% with average savings of about 24%. Some residential customers have also reported energy savings of about 15%.
Pre-Cool The Air For Less Energy Use And Greater Cooling Power.
The primary benefit of the micro mist is from a process called "flash evaporation." Most of the mist evaporates almost instantly, literally sucking the heat out of the air and forming what engineers call an adiabatic boundary.
"We call it a 'pre-cool shield'," says Darius Jakubik, the company's senior vice president of marketing. "This is a shield of cool air that insulates the AC system from hot outdoor air. Inside the pre-cool shield, the air temperature can be as much as 30 degrees lower than the air around it. That means that if the ambient air temperature is 98°F, Cool-n-Save can knock it down to 68°F before it reaches the AC's condenser unit. Your AC system will work faster and more efficiently when the air is pre-cooled, especially on very hot days when you need it most."
The dramatic decrease in air temperature results in a substantial increase in EER (Energy Efficiency Rating) for the AC system. System condensers run more efficiently and less frequently; less energy is used to produce greater cooling power. Field tests and client results show that Cool-n-Save can reduce energy cost by as much as 30%. Cool-n-Save can also reduce wear and tear on equipment, resulting reduced cost for repair and replacement.
A detailed analysis of how Cool-n-Save improves the efficiency of air conditioning condenser units was conducted by the Department of Mechanical Engineering at Tulane University in Louisiana in 2005. Researchers concluded that Cool-n-Save "substantially" increases heat transfer of air conditioning units and "that cooler air will be able to circulate throughout a structure and that this will decrease the time the condenser unit runs thus reducing electricity cost to the user."
A separate study presented in 2009 by the Hong Kong Polytechnic University confirms that the application of water mist to pre-cool "ambient air" increases performance and efficiency of air conditioning systems by 30% or more. Subsequent system field tests of Cool-n-Save installations show instant and sustainable reduction of energy consumption – on average about 24%, with peak savings of more than 30%.
Customer Testimonials
I bought a cool-n-save last summer and it saved me $90 in the first month. I recommend it to everyone I talk to. You have a product that can make a difference for everyone, not only in their budgets but also for their comfort inside their home. HATS OFF TO COOL-N-SAVE. --James H., Lake Whales, Florida
I appreciate your fast response, if more people in this country would do business this way it would be a much better place to live. Again thank you very much and I will be buying at least 1 more unit in the future and telling everyone about you. --G.F. Kruse, California
Your invention has been a big help in our home. I can honestly say that my energy bills have been lower than every neighbor I have spoken to in the month of June by over $100.00 per month. You will undoubtedly see a few more sales from my neighborhood! --Dale S., Arlington, Texas
I have to say that since installing the device the house has been cooler, and this month's electric bill was about the same as last month and this month was an extremely hot month compared to the previous one. My wife is disabled and in need of a lower house temperature, so the help the Cool-n-Save provides in these hot months is greatly appreciated. --Tom H., Georgia
It has definitely made a difference in the capability of my air conditioning unit. The duct temperature is about 7 degrees cooler with your unit on. I set my thermostat at 76 and on extremely hot days, the house temperature would climb to 79-82 degrees with the compressor running constantly. With your unit, the compressor still runs all the time but the temperature will hold at 76-77 degrees. When the outside temp is more reasonable, the unit cycles off more often which obviously will save me money. --Thomas J., California
Special Summer Pricing - 10% Off
For a limited time, buy Cool-n-Save for your home now and save 10% instantly. The Cool-n-Save Residential Kit includes all of the parts needed for a quick and easy do-it-yourself installation. Use coupon code CLEANTECH2010.
Friends And Family Affiliate Program
Earn a 10% bonus for referring friends and family. Call 866-680-7846 or write and ask about the Cool-n-Save Affiliate program.
See Us At The Clean Technology Conference And Expo 2010
See Cool-n-Save at the Clean Technology Conference and Expo, in the CleanTech OC pavilion, booth #300, June 21 – 24, in Anaheim, CA, at the Anaheim Convention Center. For more information, visit TechConnect World.
About Greenway Design Group, Inc.
Greenway Design Group, Inc., based in Huntington Beach, CA, is the innovator of energy-saving solutions for HVAC systems under the Cool-n-Save® and Cool Release™ brands since 2005. The company manufactures and markets cost-saving devices that significantly reduces the cost of running commercial and residential air conditioning systems. Thousands of property owners currently use Cool-n-Save® and many have realized energy cost savings as high as 30%. For more information, call 866-680-7846 or use our contact form.
###