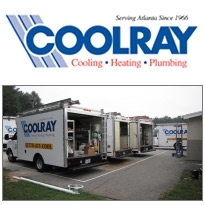 It saddens us to see this kind of activity in our community, especially when the Boys & Girls Clubs do so much for our children
Marietta, GA (PRWEB) September 22, 2010
Coolray, an Atlanta heating and air conditioning company, recognizes the importance of giving back to their community. When they heard air conditioners had been stolen from several area youth clubs, it was clear the HVAC company could help.
A handful of Metro Atlanta Boys & Girls Clubs were left struggling to keep cool after multiple air conditioners were stolen from the Lawrenceville area clubs. Shocked that anyone would steal from children, and knowing the clubs were faced with overwhelming replacement costs, Coolray stepped forward to lend a hand. In cooperation with Trane, they donated and installed seven complete cooling systems and four additional furnaces to help defray costs and help get the clubs back on their feet.
For Coolray, lending a hand seemed like the right thing to do. "It saddens us to see this kind of activity in our community, especially when the Boys & Girls Clubs do so much for our children," shares Ken Haines, President and CEO of Coolray. "It's only right that we help out in any way that we can."
Coolray worked quickly to see that the units were installed and running as soon as possible. "What normally is a 5-6 day project for us needed to be done quicker - for the kids," continued Haines. "We want the Boys & Girls Club to be able to go back to business as usual and continue to provide a safe, comfortable environment for our community's youth."
Coolray and Mr. Plumber have been serving Atlanta and the surrounding area including Marietta, Suwanee and Jonesboro with superior HVAC, indoor air quality and plumbing services for over 40 years. Dedicated to making a positive impact in their community, they strive to help build a stronger, more cohesive community through service to area youth, schools, charities and service organizations.
For more updates or to make a donation to the Metro Atlanta Boys & Girls Club go to: http://www.bgcma.org.
For more details about Coolray and Mr. Plumber or their services, go to http://www.coolray.com.
###