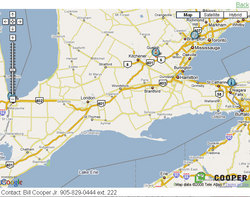 There are sound business reasons for considering Hanlon Business Park
(PRWEB) June 28, 2008
Toronto, ON - June 18, 2008 — Structural steel is in place and construction is proceeding on schedule at Hanlon Business Park, the major development by Cooper Construction, immediately south of Guelph, Ontario.
The 178-acre site is divided by Hanlon Expressway. Phase 1 construction is focused on 120,500 s.f. Building A, the first of three buildings planned for Phase 1 of Hanlon Business Park East (see site plan).
"There are sound business reasons for considering Hanlon Business Park," stated Bill Cooper, Jr, leasing manager for the project. "Development charges in Guelph are about sixty percent lower than in Milton and other GTA municipalities, and land prices are about sixty percent less than in Mississauga, for example."
Cooper described the project as "Ideally located", with easy access to Highway 401, other 400 series highways, Toronto Airport, the Expressway Intermodal Rail Terminal, and all major border crossing points.
"This is a green development" Cooper said, "with opportunities from 15,000 s.f. up. We will design/build to the individual business needs."
About Cooper Construction
Cooper Construction is a third-generation family-owned Canadian best-practices company in commercial real estate development and leasing, design-build construction, construction management, and property management.
For more information on Hanlon Business Park, please contact Bill Cooper, Jr, at 905.829-0444 ext. 222. http://www.coopercon.com
###