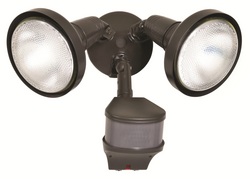 Precision Plus Doppler Radar Motion Activated Outdoor Security Floodlights use advanced technology to deliver a wider blanket of security coverage.
Peachtree City, GA (Vocus) April 28, 2010
Cooper Lighting , the leading provider of high-quality lighting fixtures, introduces Precision Plus Doppler Radar™ Motion Activated Outdoor Security Floodlights, an innovative system that uses advanced technology to deliver a wider blanket of security coverage than most motion sensors on the market can provide.
Many of the motion sensor lights available today use only Passive Infrared (PIR) technology, which picks up side-to-side movement, but can fail to detect an intruder moving toward or away from a security sensor head.
Cooper's Precision Plus Doppler Radar lighting uses Passive Infrared technology, but also adds sophisticated Doppler radar, featuring a 270-degree detection zone with three infrared sensors that can detect motion up to 90 feet away. This advanced outdoor lighting system provides more sweeping and reliable coverage—up to 50 percent more than many typical motion sensors—by activating the lights when either side-to-side or front-to-back motion is detected.
Precision Plus Doppler Radar delivers a more accurate and stable performance than standard sensors, using a precise microchip controller to analyze both the Doppler radar and Passive Infrared signals to determine if a light needs to be activated. The use of Doppler radar reduces false triggering of the lights because Doppler reacts to actual motion, rather than wind, rain and temperature changes. Other motion sensors may not detect a well-bundled burglar approaching a building on a cold night, but since Precision Plus Doppler Radar is less affected by extreme temperatures.
Precision Plus Doppler Radar has motion sensors that turn the lights on automatically when motion is detected, then turns them off after a pre-selected time delay of anywhere from one to 12 minutes. The system's integral photo cell design saves energy by keeping the lights off during daylight hours. And the lights, which have adjustable "sensitivity" and "mode" settings, can be manually turned on by an inside light switch after dusk and will automatically reset at dawn.
The floodlights are available in white or bronze and can be installed as wall or eave mount applications. They are available at national and local hardware and home improvement stores with a MSRP from $64.99 to $74.99 depending on the model.
The Precision Plus Doppler Radar Motion Activated Outdoor Security Floodlights will be showcased at the 2010 National Hardware Show, May 4-6, at the Las Vegas Convention Center, Las Vegas, Nevada, at booth # 3615.
For photos, videos and more information about Precision Plus Doppler Radar products, visit PrecisionPlusDopplerRadar.com or http://www.cooperlighting.com.
About Cooper Lighting
Cooper Lighting, a subsidiary of Cooper Industries plc (NYSE: CBE), is the leading provider of innovative, high quality interior and exterior lighting fixtures and related products to worldwide commercial, industrial, retail, institutional, residential and utility markets. As lighting technologies have advanced over the years, Cooper Lighting has been at the forefront of the industry in helping businesses and communities leverage the latest technologies to improve efficiency, reduce costs and enrich the quality of the environment. For more information, visit http://www.cooperlighting.com.
About Cooper Industries
Cooper Industries plc (NYSE: CBE) is a global manufacturer with 2009 revenues of $5.1 billion, approximately eighty-nine percent of which are from electrical products. Founded in 1833, Cooper's sustained level of success is attributable to a constant focus on innovation, evolving business practices while maintaining the highest ethical standards, and meeting customer needs. The Company has eight operating divisions with leading market share positions and world-class products and brands including: Bussmann electrical and electronic fuses; Crouse-Hinds and CEAG explosion-proof electrical equipment; Halo and Metalux lighting fixtures; and Kyle and McGraw-Edison power systems products. With this broad range of products, Cooper is uniquely positioned for several long-term growth trends including the global infrastructure build-out, the need to improve the reliability and productivity of the electric grid, the demand for higher energy-efficient products and the need for improved electrical safety. In 2009, sixty-one percent of total sales were to customers in the industrial and utility end-markets and thirty-nine percent of total sales were to customers outside the United States. Cooper has manufacturing facilities in 23 countries as of 2009. For more information, visit the website at http://www.cooperindustries.com.
Contact:
Karin Martin, Karin Martin Communications
(630) 513-8625
# # #