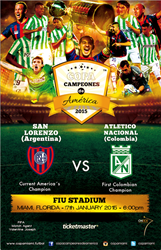 Miami Beach, FL (PRWEB) December 14, 2014
As soccer continues its exponential growth in popularity, we're seeing more and more professionally produced international matches in the United States. Taking the game to the next level, Miami's Onside Entertainment are set to announce the establishment of a Miami tradition, the first annual Copa Campeones de America. Featuring two of Latin America's strongest teams, the event promises to bring the excitement, passion and signature "Futbol" experience to fans from all around the world.
The Copa Campeones de America will pin Argentina's San Lorenzo de Almargo, fresh off their Libertadores Cup win and on their way to play Real Madrid at the Team World Cup, versus Colombia's Atletico Nacional de Medellin, who last week played the finals of the Copa Sudamericana. Indeed a match of this quality has rarely been seen on US soil, giving the Copa Campeones de America, or CCA, a strong foundation going forward.
San Lorenzo is based in Buenos Aires, Argentina; and is known as the Pope's team because his holiness is a huge fan. The team shot to international recognition in 2013 when the Pope professed to be a card carrying member of the "Saints", as they are called by their fans, and the squad went on to win the local championship, followed by their first ever Libertadores cup. Divine intervention?
Atletico Nacional is based in Medellin, Colombia, and have had a fantastic year. As finalists of the Copa Sudamericana and winners of the two previous Colombian League Championships, their fan base is proud and growing. Adding to the drama of January's match, Nacional has just lost to River Plate in the finals of the Copa Sudamericana, and are looking to gain revenge on an another Argentine team; this will make for great soccer all around.
The FIU stadium was chosen as a world-class venue that is perfectly suited for a premiere soccer match. With its 20,000 seats capacity, the stadium features 1,500 club seats and 10 Luxury Suites for a full range of experience. FIU regularly holds soccer, American football and other events of national and international stature, ensuring a facility that can support the passion and excitement the Copa Campeones de America is sure to bring.
Further details of the January match, and a chance to speak with organizers, hosts and team representatives, will be provided at next week's press release, to be held at Florida International University (FIU), in their Stadium Club on the south side of the venue. The stadium is located at 11200 SW 8th Street, Miami. Please send press conference RSVPs and all other inquiries to press(at)copamiami(dot)futbol.
About Onside Entertainment, LLC:
Onside is Miami's premiere soccer entertainment promotions group, comprised of a unique collection of industry professionals who share a passion for soccer and vision for bringing strong soccer traditions to the US and its growing Hispanic and international population. http://www.onsidellc.com
About Glo Creative:
Glo Creative is Miami's newest, most innovative advertising agency. We are proud to be the official press agency for the First Annual Copa Campeones de America in Maimi.
http://www.glocreative.com