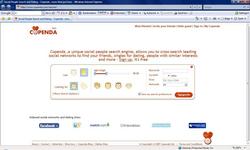 We read in a Datamonitor report that active social networking memberships was forecasted to hit 230 million by the end of 2007
Tel Aviv, Israel (PRWEB) May 16, 2008 -–
Copenda, a unique social people search engine, today announced major upgrades to the site that will make it easier to find and connect with people on the Internet.
Copenda is the first search engine that allows people to view profiles from multiple social networking and dating sites in one place. Members can filter through general preferences, such as gender, interests, age, as well as location, and the profiles are aggregated into one location. New features to the site include:

Contact me – Enables one to contact social networking users directly from Copenda. All messages are flawlessly sent by Copenda through his or her social network account.
Claim my profile – Members can manually add their profiles to Copenda's search engine and associate existing profiles with their Copenda profile. After "claiming" their social networks and dating sites' profiles, users will be able to oversee all relevant accounts in one, centralized location called "My Copenda." Each claimed profile has a link to Copenda's profile page which contains general information about the Copenda user.
My Copenda – Users have a personal homepage in which they can manage their favorite profiles, edit their personal information and receive notifications.
New filter option – Allows members to only have profiles in the search results from their favorite social networks or dating sites, which the user has identified.
Cool people in this area – Shows people who are in nearby locations with similar interests; this information will appear on the profile page
Invite my friends - Users are able to invite their friends to Copenda; their list of friends can be entered manually, imported from their email or from other social networking sites.
"We read in a Datamonitor report that active social networking memberships was forecasted to hit 230 million by the end of 2007," said David Kariv, Copenda's co-founder "To help those millions of people, our goal is to make it easy for them to connect no matter what social networking site they prefer. The new features integrated into the site allows for effortless communication between sites to occur. Copenda breaks down the virtual wall that currently exists between social networking sites. It is our hope, that Copenda will be the networking site consumers turn to manage all their accounts from one centralized location."
Copenda was founded in December 2007 by Tal Cohen, Gadi Reichman and David Kariv. Dating and social networking sites benefit from Copenda because it can increase their membership and traffic. To sign up for free, please visit, http://www.copenda.com
About Copenda:
Copenda.com, a unique social people search engine, allows you to cross-search leading social networks to find your friends, singles for dating, people with similar interests and more. Our complex algorithms crawl semi-structured data from multiple social networks and online dating sites. Copenda uniquely integrates an innovative user interface with dating site features such as personality search and social network features such as ranking, comments and tagging.
Contact:
Info[at]Copenda.com
http://www.copenda.com
###