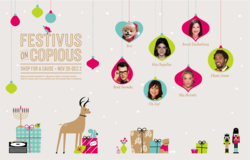 San Francisco, CA (PRWEB) November 28, 2012
Copious, the social marketplace to buy and sell the things you love, this week launched Festivus on Copious with featured shops from world's cutest dog, Boo; celebrity stylist, Brad Goreski; former NFL player and entrepreneur, Dhani Jones; Man Repeller blogger, Leandra Medine; DJ Mia Moretti; blogger, Joy Cho of Oh Joy! and Bravo producer, Randi Zuckerberg. 100% of sales proceeds from these shops will go to Operation Smile, Covenant House, BowTie Cause, Red Cross, Ali Forney Center, amfAR and the Somaly Mam Foundation.
Festivus on Copious will run from Cyber Monday, November 26 to Sunday, December 2. Shops and causes are as follows:
Cyber Monday, November 26: Boo the dog will donate proceeds from his shop to Operation Smile, an international medical charity that heals children's smiles. "The holidays are about giving back and helping others," said Boo. "I'm so happy that I can do my small, fluffy part to aid children around the world." Items in Boo's shop include his favorite blanket, his series of books, and plush toys.
Tuesday, November 27: Randi Zuckerberg, founder and CEO of Zuckerberg Media and Executive Producer of Bravo TV series Start Ups: Silicon Valley, is supporting Covenant House, a charity that helps homeless youth, through her shop on Copious. "It's important to give back not only during the holidays, but throughout the year," said Randi Zuckerberg. "You never know where talent, innovation or genius will come from. I'm supporting Covenant House because all children deserve a chance to succeed." Randi is selling items from her closet, including a dress she wore to the Emmys.
Wednesday, November 28: Former NFL linebacker and entrepreneur Dhani Jones is supporting BowTie Cause, a philanthropic endeavor he created to challenge individuals to wear bow ties in support of important causes. "Even the littlest things you do, say and wear make a big impact," said Dhani Jones. "By sharing a few of my favorite things on Copious, I'm hoping to raise awareness for BowTie Cause, an organization that supports nonprofits through style." Dhani's shop includes a camera, his signature Warby Parkers, and a once-in-a-lifetime chance to spend an hour with Dhani for coffee and an Instagram photo walk in New York City.
Thursday, November 29: Celebrity stylist and Bravo TV star Brad Goreski will donate sales proceeds to the Ali Forney Center. Brad will share items from his closet, as well as some of his favorite accessories and brands. "I love everything about the holidays: the decorations, the parties, and spending time with friends and family," said Brad Goreski. "What I love most is that feeling of giving back. Every bit counts."
Friday, November 30: Blogger Joy Cho of popular lifestyle outlet Oh Joy! is donating the proceeds of her sales on Copious to the Red Cross to benefit Hurricane Sandy relief. "I feel fortunate to spend every day doing what I love," said Joy Cho. "I'm from Philly and spent my early adulthood in New York, so the East Coast holds a special place in my heart. I want to do what I can to help rebuild what was destroyed in the recent Hurricane." Joy's listings on Copious include a holiday-perfect sequined skirt, and a fall coat from her closet.
Saturday, December 1: DJ Mia Moretti will donate the proceeds from her shop to amfAR, an international nonprofit dedicated to HIV/AIDS research. "amfAR is an incredible organization dedicated to saving the lives of millions by funding innovative research into HIV and AIDS," said Moretti. "I'm happy to do my small part to support their efforts, especially on December 1st, World AIDS Day." Mia will be selling her Pencey x Mia Moretti blazer, select records from her collection, a Versace dress, and other items.
Sunday, December 2: Man Repeller blogger Leandra Medine will be supporting the Somaly Mam Foundation by selling her closet on Copious. "The Somaly Mam Foundation creates new lives for young girls and women, and that's the biggest gift you could ever give someone," said Leandra Medine. "Festivus and fashion are lighthearted, but they can also be a really powerful force for good." In addition to items from her closet, Leandra's shop will feature the opportunity to shop with her for an afternoon in her native NYC.
To celebrate individual style and giving back today, visit: http://copious.com/offers/festivus. New Copious users receive $10 off a purchase of $20 or more, with full proceeds from each Festivus store going to select nonprofit organizations. Anyone can join Copious, for free, to buy and sell the things they love. Categories on Copious include art, home decor, accessories, menswear, shoes and women's fashion.
About Copious
Copious is a social commerce company based in San Francisco and backed by Google Ventures, Foundation Capital and Embarcadero Ventures. Copious makes it easy to buy and sell the things you love, and has built an ecommerce experience organized around you -- your interests, style and taste. Come discover new and unique things from people who share your passions.