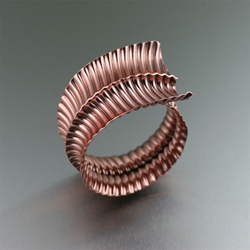 Form folding is an art form that provides quick and gratifying results and leads to fresh and innovative design ideas in jewelry
San Francisco, CA (PRWEB) June 08, 2012
Inspired by the Bay Area's natural beauty, jewelry designer John Brana presents exciting new Fold Formed jewelry additions to his distinctive line of handmade copper jewelry. Fold forming is a collection of techniques developed and pioneered by Charles Lewton-Brain in the late 1980's that has become widely recognized as a new approach to jewelry-making and metal-working all over the world.
Modern fold forming is considered a combination of traditional metalwork and origami. "It's about allowing the metal to fold in natural ways according to its plasticity, instead of forcing form," said Brana. When one does not fight to form the metal, forming becomes extremely rapid and efficient. Highly complex relief forms can be produced with just a single sheet of metal and a few tools, including your hands, fingers, mallets, hammers, anvils, and rolling mills.
"Fold forming is an art form that provides quick and gratifying results and leads to fresh and innovative design ideas in jewelry," said Brana. "While there are a set of basic fold-forms known, each can be taken in many directions. It's entirely possible to create a form that has never been done before." Names are given to the basic folds in the process of fold forming. These may include T-Folds, Line-Folds, Rueger Folds, and Cross-Folds, among others. Both traditional and non-traditional metals can be used in fold forming. Copper is an ideal medium, often used for its brilliant luster and versatility.
One of the most popular of his designs is a flower or leaf shape, part of a chasing and fold forming process with the malleable copper. When asked how he gets the realistic representation of a leaf's veining he is quick to point out that none of it is impressed from an original. "It's all chased by hand," he explains, a similar process as engraving aimed to create a decoration. Also very popular are his very distinctive corrugated fold formed copper earrings, bangles, and cuff bracelets. "Copper is one of my favorite metals. It showcases amazing texture and its rich, rose gold color is so beautiful on so many people," said Brana . "It also takes patination very well, resulting in an endless palate of colors such as turquoise, magenta, mustard, and apple green with a notable texture."
San Francisco based jeweler, John S. Brana, has been featured by the Manufacturing Jewelers & Suppliers of America Journal and Copper.org for his cutting edge use of non-precious metals such as copper in his collections. "I think the strength of my design company is that it hasn't followed a traditional route," says Brana. "People like my jewelry not because of the semi-precious metals, but because of the interesting original designs." To view his Fold Formed Copper Jewelry, visit http://www.handmadecopperjewelry.com.