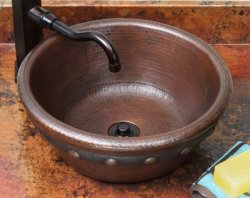 Copper vessel sinks make a truly regal, timeless addition to any style bathroom.
(PRWEB) October 20, 2012
HomeThangs.com – the Home Improvement Super Store has made their goal to deliver the right product to the consumer, with that in mind, shopping and home design tips, as well as special product selections are being introduced.
Designer vessel sinks are the ultimate in custom bathroom design.
With thousands of intricate, colorful, unique designs out there, a good vessel sink is the perfect signature finishing touch to any bathroom, and a perfect way to add a little personal flair, whether it's a private master bath or a more heavily trafficked guest bathroom. Nowhere is this more true than with hand-pounded copper vessel sinks. Made by skilled artisan craftsmen, no two are created exactly alike. More than that, they age naturally over time, developing a one of a kind patina.
HomeThangs.com introduced a wide selection of copper vessel sinks along with some tips, offering a perfect custom touch to any bathroom.
1. Normal Wear And Tear Actually Makes Copper Sinks More Beautiful
Vessel sinks come in a wide variety of beautiful materials. But where porcelain, glass, or stone sinks age, chip, stain, and scratch over time, the very same daily grind that causes an average sink to loose its luster is part of the process that enhance the beauty of a copper sink.
2. Copper Is Naturally Self-Healing
If any other kind of sink is cracked, chipped, scratched, or stained, it can be difficult or even impossible to repair. Not so with copper vessel sinks. The material is naturally nonporous, so it won't stain, and hand-hammered copper sinks already have a slightly more rustic, varied, uneven texture, so dents and dings aren't likely to show up. More than that, because copper vessel sinks are continually aging and maturing while in use, if they are damaged a little shiny copper will show through for a little while, but within a few days or weeks the mark will age and start naturally blending right back in to the rest of the sink. Depending on the depth of the scratch, the mark can completely disappear in as little as a few weeks or a month.
3. No Cleaning
The only real "damage" one can do to a copper sink, short of going at it with a chain saw or a braise welder, is to rub it down with lemon juice, vinegar, or any other acid. That means supremely easy maintenance - no chemicals and no scrubbing pads, the sink just has to be thoroughly rinsed and wiped to prevent hard water spots.
4. Copper Is Naturally Hygienic
Copper is naturally hygienic - not just non-porous, it actually kills bacteria better than any other surface. Bacteria deposited inside a copper vessel sink actually die faster than those on the surface of a stainless steel surgeon's sink, and not just by a little - bacteria in the surgeon's sink can live for up to a month. The ones in a simple copper vessel sink will die in just a few hours. That means that even if never cleaned, a copper sink, like one by Copper Factory or Sierra Copper for example, will probably be the cleanest, most hygienic surface in the bathroom.
5. Copper Vessel Sinks Are Truly One of a Kind
All of that adds up to a sink that's not only 100% hands off, but also one that's genuinely one of a kind. Even ignoring the individual craftsmanship of hand pounded sinks, or the beautiful but subtly varied designs on patterned sinks like ones by Artisan or Premier Copper, every time a copper sink is used, it is becoming more unique. Glass vessel sinks are beautiful in their color and design, and even in the way they catch the light, but copper vessel sinks are beautiful in their mutability, the constantly changing, living designs that appear in the metal as it ages, and the natural patterns that no human hand could quite replicate.
Copper vessel sinks make a truly regal, timeless addition to any style bathroom.
HomeThangs.com is more than just a Home Improvement Superstore. They're constantly seeking to provide homeowners and designers with the right products at competitive prices. With a wide selection of products, expert home design tips, and comprehensive shopping guides, Homethangs is a company that's there at all stages of the design process, from idea to execution. It's their goal is to make dream remodels doable.