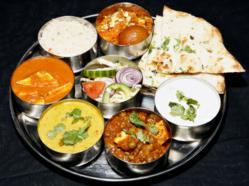 Our copper tableware is meant to give authentic Indian dining experience. Ethnic cuisine is best enjoyed when eaten in traditional style.
New Delhi, Delhi (PRWEB) September 13, 2011
ShalinIndia, an online store for shopping cultural products from India has launched full range of traditional copper tableware dinnerware for its global customers. These tableware are meant to give authentic ethnic Indian dining experience. Customers are able to buy them online not only from ShalinIndia's own online store, but also from other online marketplaces like Amazon, Ebay, Bonanza, Etsy, Atomic Mall and Webstore.
"Our copper tableware is meant to give authentic indian dining experience. Ethnic cuisine is best enjoyed when eaten in traditional style. Indians have used copper, since ancient times, for making dining and kitchen utensils. Yellow is considered sign of good omen and therefore gold and copper have been traditional favorite metals among Indians," says Shalini Verma, founder of ShalinIndia.
"Indian foods are best relished when it is served hot. ShalinIndia tableware and dinnerware are made in two layers of metals with air cushion in between. This ensures that food stays hot longer when served in these tableware. The best form of drink to go with Indian food is often water or "lassi", a yogurt based drink. Double walled tumblers ensure that water or lassi remain fresh and cool. Inner layer is made in stainless steel while the outer layer is made in copper. Food or drink is in contact with stainless steel only and not copper", added Shalini Verma.
"We have launched full range of tableware. There are famous traditional thalis, which is a large plate with large ear-rims, four serving bowls called katoris, a tumbler glass, and a spoon and a fork. Rice or tandoories are usually served in the center of the plate, while the Indian curry and desert are served in the bowls. Most Indians use fingers for eating food. The thali plates are designed for use of fingers. Outer elevated rims on the plates ensure that the curries do not flow out of the plate. Besides thalis, there are large serving bowls meant for the center of the dining table. These are called by different names according to their shapes, like karahi for serving curry items, buckets for serving dals orlentils, dekchis and handis for serving rice or biryani, and tava for serving Indian breads or other tandoor items", explained Shalini Verma.
ShalinIndia is an India online shopping store selling mainly cultural products of India to global customers. The company has partnered with amazon to store its inventory in five countries – US, UK, France, Germany, and Japan. Amazon picks, packs and ships orders in these five countries. Orders from other countries are shipped directly from India. Every order is delivered within three to five days.
###