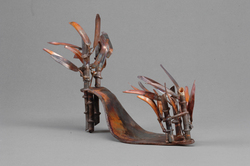 I pour a lot of love and time into every copper shoe I create.
Poulsbo, WA (PRWEB) October 7, 2010
Elizabeth Emison Metalworks has cause for celebration. Elizabeth Emison was recently selected to participate in the 2010Bainbridge Island Winter Studio Tour in Bainbridge Island, Wash December 3 through 5. Art lovers and holiday shoppers will have the opportunity to meet Emison and purchase unique the copper shoes she creates from recycled copper.
The Bainbridge Studio Tour takes place twice a year--once in the summer and again in the winter. A tradition since 1984, 60-70 artists are selected by three jurors chosen by the Steering Committee. This is the only means by which an artist can showcase their work in the Studio Tour.
Emison's copper shoes have been selected for this year's tour. It's a significant accomplishment to have her one of a kind copper shoe sculptures in a show where her peers have heralded her among other talented artists.
"It's an honor to be a part of the Bainbridge Island Studio Tour," says Emison. "I pour a lot of love and time into every copper shoe I create. To have my work recognized by such a wonderful group of artists, much less one of this great caliber, is very humbling."
Artists are assigned a studio to display their artwork. Art connoisseurs and holiday shoppers can purchase artwork as well as admire the talent of all the artists involved with the tour. Emison's copper artwork is unique--she only makes one of every shoe design. These sculpted shoes are whimsical and can be custom ordered. Emison does work on commission. Emison creates shoes for special occasions of all kinds for themed parties or to match someone's unique personality. Great for shoe lovers, shoes can be gifts or used as centerpieces with votives, on coffee tables and end tables, decorative paperweights, and more.
Elizabeth Emison creates her one-of-a-kind copper shoes through art welding and braising. Each shoe takes several hours to complete, depending the design complexity.
"Shoes last forever--at least these do. They're a labor of love. The way I see it, life is short. Buy the shoes. You have to make yourself happy. Making these shoes, among other things, makes me happy. I like seeing others smile when they purchase a unique piece of artwork that no one else will have," says Emison.
Emison is not a novice at exhibiting her copper contemporary sculptures. She is a featured artist on Art on Main in St. Helena, Ca. this fall. Emison also just finished a collection of mini shoes for Circle & Square, a boutique in San Francisco.
To view pictures of Emison's copper shoes, visit eemisonmetalworks.com.
About Elizabeth Emison Metalworks
Artist Elizabeth Emison has been sculpting unique copper shoes for over three years. After experiencing a serious medical setback, she quit her job as a Pilates instructor to focus on her art and take advantage of a talent that was dormant. Now a success with a reputation of creating truly unique, one-of-a-kind sculptures, Emison works out of her Washington studio. Others are amazed that Emison does not have any formal training. The art she creates is pure talent. "Life is short…Buy the Shoes."
###