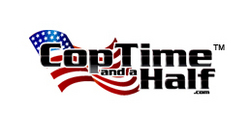 No other job web site in the security field even compares.
Washington, DC (PRWEB) June 16, 2010
CopTimeandaHalf.com is an innovative job website designed to find the nation's finest personnel from the military, law enforcement, intelligence and the private security industry.
CopTimeandahalf.com maintains some of the more traditional "jobsite" components such as job search, posting of ads by employers, and resume submission. The website also takes the "traditional" platform to a whole new level of interaction and specificity that can only be found on CopTimeandahalf.com.
Applicants do not simply walk through a "cookie cutter" profile application and submit resumes. They are asked questions, which bring out the most highly sought after skills in the industry, allowing employers to receive a very thorough snapshot of the applicants before they see their resumes.
New to the security industry and only found on CopTimeandahalf.com is the ability for security companies to market themselves to attract potential employers and for employers to locate quality security companies. The profiles showcase the company's work history and its unique capabilities. This is done under a 2048 bit EV SSL encryption, the best online security in the industry.
CopTimeandahalf.com now gives small business security companies the opportunity to be found and to find work based on their qualifications and abilities. The Security Company page also allows for business-to-business interactions for those companies seeking to sub contract and provide skills and capabilities not found in larger companies.
Finally, CopTimeandaHalf.com presents what can only be seen as innovative, the ability for job seekers to locate job opportunities in "Real Time" on our CopTimeOnDemand page. Often times on the law enforcement side of national security, there are security positions that have to be filled on a weekly and daily basis. These openings offer part-time opportunities for off-duty police officers, and private security personnel to be hired as bodyguards and armed security guards.
CopTimeandahalf.com provides the capability to locate job opportunities between 8-48 hours up to 1 week on its "On Demand" page. Utilizing the patent pending "Quick Post Ad System" or QPAS allows for users to find and contact potential employers immediately through mobile technology. The QPAS also allows for the employers to collect and choose which applicants they want by reviewing their profiles online or responding with pre-written text messages provided by the web site.
Visit our site today and sign up as a new job seeker or post an ad FREE for 60 days if you are an employer.
Welcome to the future of online job search: http://www.coptimeandahalf.com
###