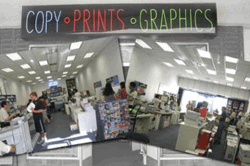 Los Angeles, CA (PRWEB) November 12, 2012
It is that time of year again. As the last few pages of the calendar begin drift away, it is time to shop for a new one. Although many bookstores, mass merchandisers and drug stores offer a variety of calendars, a personalized calendar can offer something fun and different that will bring a smile to the face of everyone who sees it every day throughout the next year. LA Copy and Print Center is currently offering discounts on its personalized calendar printing service.
People use calendars frequently to schedule appointments, plan special occasions and make note of memorable days. Personalized calendars can be thoughtful gifts that create a link to all the best memories of the past and a promise of an even more exciting future. Turn photos into something truly special, or try collages and easy-to-use templates for a tailored look suitable for work or home. Personalizing a calendar can be fun and easy, and they are a great alternative to printing and filing favorite digital photos. Personalized calendars can be kept at home, given to friends and family and used at work. Inspiration can be found anywhere favorite pictures or images are kept.
Businesses or organizations can also use personalized calendars as a clever marketing tool to keep their names in front of valued customers all year long. They can add their own graphics, designs and features to create positive impressions, or include coupons and specials to encourage customers to continue to visit every month.
LA Copy and Print Center, printing center in Los Angeles, offers a fully customizable experience. Customers can choose the design, color and size of their calendars and pick from one of a number of playful, sophisticated or classic templates, or they can provide their own designs and styles. They can call in their orders, upload their preferences and designs online, or place their orders in person.
LA Copy and Print Center, printing company in Los Angeles, features an extensive range of customized printing services, including sign and banners printing, brochure printing, and personalized tshirt printing. Until December 31, 2012, customers can also get an extra 20 percent off any personalized calendar.
Visit http://www.lacopycenter.com or call (800) 554-2202 for more information about these discounts. LA Copy and Print Center is located at 9130 B. Reseda Blvd. in Northridge, CA 91324.