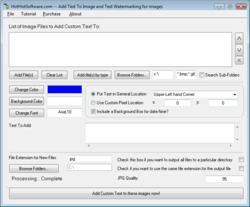 This software made it very easy for me to protect my images. All I had to do was copy the images I wanted protected into the software, click a button, and voila! It was done!
Los Angeles, CA (PRWEB) February 14, 2013
With the proliferation of images on the internet, it becomes more important than ever to be able to cite the source of the images. Not only does it help to protect image copyright, but it can also be used to add date/time stamps to multiple batches of images. Doing this by hand for individual images can be very time consuming. New software from HotHotSoftware allows both users and developers to save massive amounts of time with the Add Text To Image and Text Watermarking for images Software.
With the HotHotSoftware, a user simply needs to add the images they want to the software, and then click a button to add them. Files can be added recursively, filtered by file type, and so forth. Users may also customize the look and feel of the watermark, such as the text color, and image watermark location. Finally, this software processes the images extremely quickly. Thousands of images may be added to the software, and processed within minutes.
For more information, please click here.
About HotHotSoftware.com
HotHotSoftware is a company that specializes in developing various utilities to help speed up the development time, and increase productivity. Applications range from flash based applications, to Microsoft Excel, Word, and Access plugins, to utility applications, and much more. HotHotSoftware has been featured in various online and offline publications, websites, and editorial sites. For complete details, visit hothotsoftware.com. Companies wishing to have custom software development work may also contact HotHotSoftware for a custom quote.