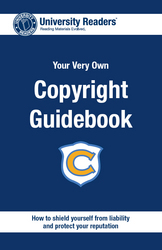 Avoiding lawsuits like the one against Georgia State University is not complicated. Instructors need to receive permission before distributing someone else's work
San Diego (PRWEB) May 1, 2008
University Readers, a custom-publishing company servicing the academic market, is introducing the Copyright Guidebook to help instructors avoid copyright violations.
The New York Times recently reported a copyright infringement lawsuit filed by multiple publishers against Georgia State University (and several university administrators) for allegedly improperly distributing the publishers' content without permission. According to University Readers, this legal action highlights the need to educate instructors on copyright laws as they apply to the classroom, as well as the implications of not following best practices.
Its creators say the University Readers Copyright Guidebook was designed to clarify impressions and assumptions that many academics have about using an assortment of copyrighted material as a substitute for textbooks. For more information on proper classroom use of copyrighted materials, visit University Readers Copyright Page.
According to University Readers, the increasing use of previously published materials for custom textbooks, course packs and course readers is in part a response to the much-criticized increase in the price of off-the-shelf textbooks. However, many instructors who want students to read specific excerpts from books, articles, essays and other works are unclear about which content requires copyright clearance and how they can obtain proper clearance.
Furthermore, the company says many instructors are unaware of the personal repercussions for violations, which can be as much as $150,000 per infringement. Since securing copyright clearances is time-consuming and can be cumbersome, many professors simply don't spend the time or effort required to do so correctly. In turn, they unwittingly put their school or department at risk as a result.
The Georgia State lawsuit is an example of what can happen if proper copyright practices are not followed, says University Readers. In the lawsuit, according to The New York Times, 'Cambridge University Press, Oxford University Press and Sage Publications sued four university officials, asserting 'systematic, widespread and unauthorized copying and distribution of a vast amount of copyrighted works' by Georgia State, which the university distributes through its Web site.'
The University Readers Copyright Guidebook was written to help instructors avoid getting tangled in this kind of legal mess. The guidebook is an easy-to-read primer on best copyright practices. Written in 'plain English' by a team of on-staff, custom-publishing experts -- and available on the University Readers Web site as a downloadable PDF-- the Copyright Guidebook condenses and summarizes a 24-page House Subcommittee Report on fair use and appropriate copying in educational settings.
Says University Readers CEO Bassim Hamadeh: "We work with thousands of university professors and administrators nationwide, and many of them are unaware - at least initially - that it's rare for the fair-use clause of The Copyright Act of 1976 to apply to their custom materials. Library electronic reserves (e-reserves) and class handouts may be an option in limited circumstances, but the legal restrictions prevent them from being viable, long-term teaching tools for distributing copyrighted content. And, worst of all, if professors aren't careful, they could get themselves and their schools in serious trouble. University Readers has been managing copyright clearances for more than 15 years and can easily help instructors and university officials navigate their options for properly using custom-course materials."
Instructors have appreciated University Readers' offerings as well.
"I have been using University Readers for 8 years now," says Dr. Lisa Barron, at The Paul Merage School of Business, UC Irvine. "I wouldn't consider doing my course copying anywhere else. Their work is of high quality and if there is ever a problem they are quick to remedy it. They respond extremely quickly to emergencies and new requests and have bailed me out of more than one unexpected situation. They are very conscientious about respecting the copyright laws and provide a high quality product. I recommend them to any other faculty member who is looking to provide his or her students with reading material."
"Avoiding lawsuits like the one against Georgia State University is not complicated. Instructors need to receive permission before distributing someone else's work," Hamadeh said. "However, the process of obtaining copyright clearance can be laborious and time-consuming. One convenient approach is to outsource the service to copyright management experts such as University Readers, who can negotiate the best copyright rates, distribute content directly to students, and help protect professors and schools from liability."
About University Readers:
Since 1992, University Readers has produced course packs, course readers and custom textbooks, and has offered comprehensive author services to the academic community. Working with more than 2,000 professors nationwide, University Readers provides copyright management, low prices, printing and binding, and direct e-commerce distribution for both print and digital content in as little as two to four weeks, all at a savings students love.
Contact:
Christopher Foster
Director of Marketing
http://www.universityreaders.com
800-200-3908 x32
###