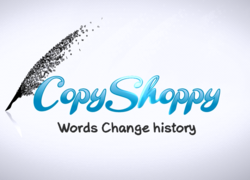 Becoming a creative professional will no longer be an exclusive club – CopyShoppy will make it easy for amateur creatives to take the first steps when embarking on their creative career.
(PRWEB) April 11, 2013
A new and exciting campaign has just popped up on the popular crowdfunding site Indiegogo. It's an online platform called CopyShoppy, with a rather ambitious goal - to revolutionize the advertisement copy industry.
CopyShoppy is a platform focused solely on the exchange of words, and will connect creatives with clients on a scale larger than ever before. Outside of CopyShoppy, customers spend their time searching for the creative contractor they feel is the best fit for them, and then make a payment to begin their project, not knowing the quality of copy that will be produced for their initiative.
Using CopyShoppy, customers will be able to view several copy submissions from dozens of copywriters before making their decision whether to award a particular copywriter with payment.
An interesting part of the CopyShoppy platform is that it also provides incentives for creative people to develop valuable concepts for the initiative takers who will transform those concepts into businesses, films, commercials, books, and products.
The start-up is currently offering services at a steep discount through the perks offered on the Indiegogo campaign. Some of the perks include hosting headline contests, naming contests, blog article contests, book plot concept contests, documentary/film/TV show concept contests, and even new product concept contests.
So for example, if an aspiring or professional author is looking for a concept for a next best seller, a book plot concept contest would be a great way to channel the power of a highly focused creative crowd.
In addition to offering services as perks on the Indiegogo campaign, CopyShoppy is also offering perks to creatives and copywriters exclusive to Indiegogo.
One of the most valuable perks is the "Founding Creative" perk - if chosen, CopyShoppy will provide the creative with a special "Founding Creative" account. With this special account, every time a creative enters a contest to compete for the cash prize, their name will be highlighted brightly, with a special Founding Creative title next to their entry. This would mean that whenever a "Founding Creative" enters a contest with creative work, the contest holder is bound to notice and pay special attention to the entry, increasing the chance of winning the contest. There are only 1000 spots available for this perk - and they surely will fill up fast considering the future payoff.
This campaign is definitely worth checking out, considering the innovation and income opportunities that will arise from this platform if it is successfully funded. The full campaign can be viewed here.