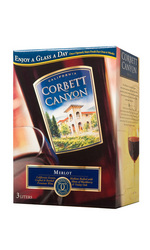 This result mirrors what we have heard from consumers and the wine trade
Livermore, CA (Vocus) January 27, 2009
In America's largest wine judging, Corbett Canyon 3L Premium Cask Merlot (non-vintage) won Best of Class for Merlots below $15, according to the 2009 San Francisco Chronicle Wine Competition. Over 4,700 wines were entered from 26 states a gain of nearly 1,000 entries since 2008.
"This result mirrors what we have heard from consumers and the wine trade," said Laurie Jones, CMO of The Wine Group, parent of Corbett Canyon vineyard wines. "We are so pleased that Corbett Canyon 3L premium cask which contains 4 bottles of wine for a modest $10 SRP beat Merlots priced at up to $15 for just one bottle. To say this is extreme value, is an understatement," she added.
"Consumers are looking for quality in box wines and it's finally here," said G.M. Pooch Pucilowski, prominent wine judge and co-founder, Lodi International Wine Awards. "It's a great day for consumers when the best category wine is also the best value in the market," continued Pucilowski, who was one of the judges of the 2009 San Francisco Chronicle Wine Competition.
Corbett Canyon Merlot is medium-bodied with deep blackberry aromas and a soft, satisfying finish. Its smooth flavors are a great complement to grilled pork chops, braised lamb and roast chicken.
The Wine Group, LLC is a San Francisco based privately-held company that produces such well-known brands as Franzia, Concannon, Big House, Glen Ellen, Corbett Canyon, Foxhorn, Fish Eye and Mogen David. Founded in 1981 by a management buy-out of the wine assets of The Coca Cola Bottling Company of New York, The Wine Group is now the world's third largest wine producer by volume and the world's most cost and carbon efficient vintner.
To speak with a representative of The Wine Group, please contact Patricia Schneider (415) 717-7595, or by email at patricia9 (at) comcast (dot) net.
###