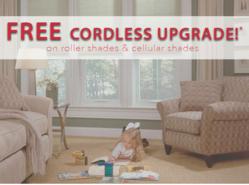 There is nothing more important than children's safety. That's why we want to be sure consumers have an affordable option. And that's why we are offering this free upgrade."
Chattanooga, TN (PRWEB) October 04, 2012
BlindsandWallpaperWholesaler.com is offering free cordless upgrades on their select brand exclusive roller shades and cellular shades for the month of October. This is in support of National Window Covering Safety Month. It is important to be aware of the hazards posed by corded window coverings and to take the necessary precautions to ensure the safety of children and pets.
Blinds and shades are available in a variety of fashionable designs with the cordless option so that style doesn't have to be sacrificed for safety. By choosing the cordless option, the potential choking hazard is eliminated. In addition to safety, cordless blinds and shades will enhance the look of any room. There are many types and colors to suit any décor. In fact, the clean, slick look of cordless blinds and shades is gaining in popularity due to its streamlined appearance. The cordless option can be added to horizontal blinds and shades, vertical blinds, and even wood blinds so that they can be used to beautify the home, while encouraging peace of mind regarding safety concerns.
Blinds and Wallpaper Wholesaler is pleased to make this option available to their customers for free on select items. "There is nothing more important than children's safety," states Bill Light, COO of Blinds and Wallpaper Wholesaler. "That's why we want to be sure consumers have an affordable option. And that's why we are offering this free upgrade."
Blinds and Wallpaper Wholesaler has been serving the public for over 35 years by offering the best prices on wallpaper, blinds, shades, shutters, draperies, and more. Visit the showroom in Chattanooga, TN or online anytime at http://www.blindsandwallpaperwholesaler.com. To learn more about the shades that are eligible for the free upgrade, please visit the cordless blinds page on BlindsandWallpaperWholesaler.com.
Internet Wholesaler, Inc.
3956 Brainerd Rd.
Chattanooga, TN 37411