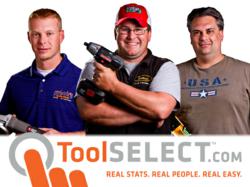 With three speed settings, superior ergonomics and up to 40 minutes of run time on a single charge, the new LXOB01 delivers increased efficiency and mobility to woodworkers
Grand Rapids, MI (PRWEB) October 02, 2012
The ToolSelect community is always comparing the virtues of both corded and cordless power tools, and the release of the new cordless Makita 18V LXT® random orbit sander is fueling that discussion.
Makita touts the new five-inch cordless orbital sander as giving users corded performance without the cord. More compact and lighter than comparable tools, Makita says the random orbit sander will run for 40 minutes of continuous sanding on a single charge.
"With three speed settings, superior ergonomics and up to 40 minutes of run time on a single charge, the new LXOB01 delivers increased efficiency and mobility to woodworkers," said Joe Soto, product manager, Residential Construction and Woodworking. "The new LXOB01 is our latest cordless solution for woodworkers, and it's part of Makita's growing lineup of over fifty cordless tools powered by one fast-charging eighteen-volt Lithium-Ion battery."
Three speed settings (7,000, 9,500, 11,000 OPM) can be easily changed with an electronic control switch, and a 1/8" random-orbit action is built for efficiency, quick removal and a swirl-free finish.
A pad break is designed to reduce free-spin, improving overall finish. The body and grip were designed ergonomically, and a through-the-pad dust-collection system helps keep things clean. The tool uses a 5-inch quick-change hook-and-loop abrasive paper for versatility.
"The more advanced cordless power tools get, the more our members want to discuss the pros and cons of cordless and corded tools," said Tom Klein, vice president of marketing and merchandising with ToolSelect. "The promise of corded power and cordless convenience in one tool is something everybody's looking to find, and we're excited to see what the ToolSelect members have to say about this new Makita random orbit sander."
About ToolSelect
ToolSelect is an unbiased community powered by its members that covers all aspects, types and brands of tools, but does not actually sell any tools. ToolSelect's members include everyone from experienced tradesmen to complete novices. Users trade tips, compare notes, debate their favorite tools and work together to help each other make intelligent purchasing decisions.
Like ToolSelect on Facebook (ToolSelect)
Subscribe to ToolSelect on YouTube (toolselecttv)
Follow ToolSelect on Twitter (toolselectmedia)