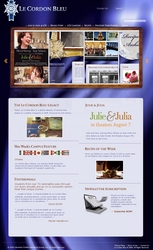 Secaucus, NJ (PRWEB) July 9, 2009
Le Cordon Bleu, a worldwide leader in the culinary arts and hotel, restaurant and tourism management, launched a new micro site on July 6, 2009. http://www.cordonbleu.edu/julieandjulia is designed for aspiring chefs, culinary professionals, and passionate lovers of food and cooking seeking an exceptional culinary experience that will enrich their lives personally and professionally.
The new micro-site was inspired by the role that Le Cordon Bleu plays in the soon to be released movie -- Julie & Julia, which hits theaters August 7th. Meryl Streep is Julia Child and Amy Adams is Julie Powell in writer-director Nora Ephron's adaptation of two bestselling memoirs: Powell's Julie & Julia and My Life in France, by Julia Child with Alex Prud'homme.
Based on two true stories, Julie & Julia intertwines the lives of two women who, though separated by time and space, are both at loose ends...until they discover that with the right combination of passion, fearlessness and butter, anything is possible.
Cordonbleu.edu/julieandjulia sparks the curious and ambitious to embark on a cross-cultural, gastronomic journey of self discovery.
Julie & Julia @LCB: Watch the movie trailer and learn more about the life and adventures of Julia Child and Julie Powell.
Brand Story: From its humble beginnings in 1895 to its evolution today as an ambassador of gastronomy and arts of the table, Le Cordon Bleu's rich history of tradition, innovation and creativity has influenced gastronomy for over 114 years.
Discover Your Passion: Le Cordon Bleu's range of culinary, wine, restaurant, hotel and tourism management programs is accessible to the beginner or the professional and especially those short on time. Plus, well-known alumni and rising stars share their stories in student testimonials.
LCB Campuses: Each Le Cordon Bleu school offers a unique study abroad experience. Many culinary adventurers need only to travel as far as Canada. Le Cordon Bleu Ottawa holds the distinction of being Le Cordon Bleu's premiere school in North America.
Recipes: Le Cordon Bleu shares recipes weekly from its collection of more than 100 cookbooks published since 1895.
Media: Get the latest news from around the world on Julie & Julia at Le Cordon Bleu promotions and events.
About Le Cordon Bleu:
Le Cordon Bleu was founded in Paris in 1895. Today, it is present in 15 countries with more than 30 schools and brings together over 20,000 students from more than 70 nationalities. Le Cordon Bleu International has become one of the leading organizations dedicated to the teaching of culinary and pastry techniques and restaurant, hotel and tourism management.
For More Information:
Contact:
Margaret Warren
Sales & Marketing Coordinator
Le Cordon Bleu, Inc.
40 Enterprise Avenue N
Secaucus , NJ 07094 USA
Tel: 1 (201) 617-5221
###