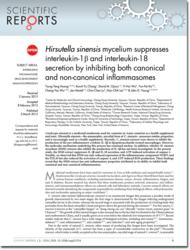 Cordyceps Sinensis (Hirsutella Sinensis) extract has anti-inflammatory properties attributed to its ability to inhibit both
canonical and non-canonical inflammasomes.
Los Angeles, CA (PRWEB) April 30, 2013
Cordyceps sinensis is a medicinal fungus used for centuries in Asian countries as a health supplement and tonic. Traditionally prescribed by medical practitioners as a kidney and lung supplement, studies have found Cordyceps Sinensis' impact on the human body reaches other functions as well, such as energy, fertility and anti-inflammation.*
Published in the March 5, 2013 issue of Scientific Journal, a new study details findings revealing Cordyceps Sinensis' anti-inflammatory properties. These benefits were attributed to Cordyceps Sinensis' ability to inhibit both canonical and non-canonical inflammasomes. Inflammasomes have been associated with several auto-inflammatory conditions such as gout. This study, performed at the Center for Molecular and Clinical Immunology at Chang Gung University in Taiwan, documents Cordyceps Sinensis' suppression of interleukin-1β and interleukin-18 secretion.
The study uses a specific anamorphic mycelial form of Cordyceps Sinensis known as Hirsutella Sinensis. This specific strain has proven to be rare and difficult to cultivate. Through Molecular Germplasm Identification, this particular strain of Cordyceps Sinensis' rDNA sequence matches wild-grown Cordyceps Sinensis by 99.645%, proving authenticity. Other strains on the market match only by 82.791%.
Download Cordyceps Sinensis (Hirsutella Sinensis) Clinical Trial
How to cite the study: Huang, T. et al. Hirsutella sinensis mycelium suppresses interleukin-1b and interleukin-18 secretion by inhibiting both canonical and non-canonical inflammasomes. Sci. Rep. 3, 1374; DOI:10.1038/srep01374 (2013).
*Legal Disclaimer: These statements have not been evaluated by the Food and Drug Administration. This product is not intended to diagnose, treat, cure, or prevent any disease.