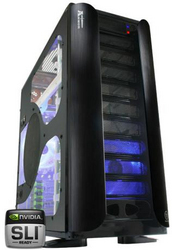 Lauderhill, FL (PRWEB) January 7, 2009
RSOL PC today unveiled the latest desktop computer models in their popular high performance Tsunami Series. Totally redesigned for 2009, the Tsunami Series II Desktops deliver vivid, high-definition graphics and handle any game with ease. Standing over 20 inches tall, the Tsunami Series II high performance desktop computer is not for the faint of heart. The first generation Tsunami's released back in Q3 2007 set the bar for delivering high-performance to all those who sought a gaming machine that destroyed the competition on features & pricing. The second generation Tsunami's continue that tradition, and demonstrate that one can never have too much power, plus they can have it all for $699 less than a similarly equipped Area-51 X58 desktop from Alienware.
As of late December 2008, a customized Area-51 X58 desktop from Alienware featuring the same hardware specifications as the Tsunami II 920A listed for $2698, plus shipping and applicable sales taxes. The Tsunami II 920A is currently being offered for just $1999 plus shipping and applicable sales taxes. The fully loaded Tsunami II 965XTM ($3670) offers much more than a fully equipped Area-51 X58 yet costs $1100 less. Those are undeniably compelling reasons why the Tsunami II should be on anyone's shortlist for their next high-powered desktop computer.
Inside each of the new Tsunami configurations you'll find the new Intel® Core i7 processors and X58 / ICH10R chipsets, Blu-Ray optical drives and burners, 8-channel digital audio, dual Gigabit LAN ports, an Asus system board that supports up to 24GB of break-neck speed triple-channel DDR3 memory, a 1000-watts Thermaltake ToughPower power supply, a Windows Vista 64-bit operating system, and terabytes (not gigabytes) of hard drive storage space. Graphics duties are easily handled by the nVidia 9800 Series SLI-capable cards. All of this in a stylish black brushed-aluminum super full-tower lockable chassis from Thermaltake, with top-mounted USB & audio ports and cold-cathode lighting.
With such a substantial difference in price, many people may raise the question about the quality of the components used in these models. Apparently the Tsunami II includes a 3-Year Parts & Labor Limited Warranty as standard just like the first generation Tsunami models, so there shouldn't be any extra cause for concern about the reliability of these rigs.
Aimed squarely at the power-user or hardcore gamer, the Tsunami II from RSOL PC offers ultra high performance at an amazing value. They can be ordered directly from the RSOL PC web site and the first units are expected to begin shipping in mid-January 2009.
RSOL PC Services has been serving South Florida since 2003 and focuses on full service, computer sales and solutions for businesses and home users.
# # #