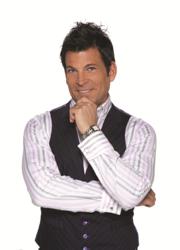 Who wouldn't love a handmade original design that expresses exactly the look and message you wanted to share?
Strongsville, OH (PRWEB) September 26, 2012
David Tutera™ Celebrate is a new DIY cardmaking line that incorporates Core'dinations® sandable cardstock as part of an easy 3 step system for creating simple, yet stylish handmade cards.
The Celebrate line is designed using a numbered system to make handmade card creation simple even for beginners while incorporating beautiful details to attract even advanced card makers.
The Celebrate line is a natural line extension of the popular David Tutera brand licensing that includes everything from wedding dresses to jewelry to party planning. David's expertise for party planning has allowed him to innovate and create the latest trends in entertaining.
"I am proud to offer a line of do-it-yourself cards that will help every level of crafter create a beautiful sentiment without having to spend a lot of money," says David Tutera. "Your imagination is the limit with what you can create but I of course included many hands-on ideas and examples to help you design a card that looks even better than what you can purchase. Who wouldn't love a handmade original design that expresses exactly the look and message you wanted to share."
David Tutera Celebrate™ is licensed to Darice, Inc., the largest manufacturer and distributor of craft supplies in the United States. Darice is the manufacturer of the popular Core'dinations brand of sandable cardstock and other jewelry making supplies.
Anthony Grinell, director of Core'dinations said, "We couldn't be more excited about our partnership with David Tutera. His creative visions for the Celebrate card making line were a perfect match with our paper's quality, versatility, and uniqueness. To work with someone who is not just a "face" on the product, but rather directly and passionately involved in making it the best card making line available, has truly been a pleasure."
This is the second partnership between Darice and David Tutera. The first being a very successful line of do-it-yourself wedding items that are currently sold nationwide in major craft and hobby stores as well as with craft supplies online.
"We are thrilled to once again partner with David Tutera," adds Darice Vice President Scott Catan. "Cardmaking is one of the hottest new categories in crafting and what better way to bring it to the masses than through the best loved, premier party and event planner, David Tutera".
The David Tutera™ Celebrate card line is set to premiere at Jo-Ann Fabric and Craft Stores the week of September 17th. Jo-Ann's will offer its customers over 125 items to choose from within the line.
About David Tutera
Awarded by Life & Style magazine as the "Best Celebrity Wedding Planner," David Tutera is a leading wedding and entertaining expert and TV personality. Known for transforming the ordinary into the extraordinary, Tutera is the author of seven popular books on the topic and is the host of the hit primetime show, "My Fair Wedding: Unveiled" on WE tv.
About Core'dinations:
Core'dinations Cardstock was developed in 2007. After years of stagnant creativity in the cardstock category of paper crafting, Core'dinations introduced a unique and versatile concept; sandable paper with a colored core. Creative techniques such as sanding, tearing, edge distressing, outlining, scoring, and many more were brought to life. Since its inception, the Core'dinations brand has continued to revolutionize cardstock with innovative product lines. It is now recognized as a leading brand of premium cardstock all over the world.
About Darice Inc.
Founded in 1954, Darice Inc. is the craft industry's premier wholesale distributor, serving many channels including craft, mass market, party, toy, drug and grocery stores. The company's key products lines include jewelry making, paper crafting, floral design, art supplies, kid's crafts and FOAMIES®. Darice's headquarters facility and 750,000 square foot distribution center are located in Strongsville, Ohio.