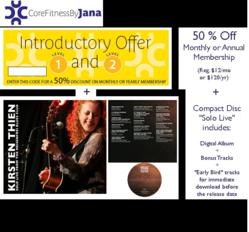 My female fans, whether traveling a lot or not, are so busy so it can be hard to find the time to work out. The modular nature of the CoreFitnessByJana.com videos has been a saving grace for me at home and on the road." Kirsten Thien, Singer Songwriter
New York, NY (PRWEB) May 15, 2013
With the release of her latest blues CD, Solo Live from the Meisenfrei Blues Club, Kirsten Thien is rewarding fans that pre-order with extra perks such as signed CDs, bonus tracks, immediate song downloads, and insider updates that give a glimpse into her life as a touring musician.
Fans who grab a "Wild Woman Workout" premium package, named after one of Kirsten's popular covers of Ida Cox's 1924 "Wild Women Don't Have the Blues" get all that plus the opportunity to jump start their Spring and Summer workout routine with a discounted membership to CoreFitnessByJana's online fitness workouts.
As an avid CoreFitnessByJana member, Kirsten utilizes CoreFitnessByJana workouts to stay in shape, counteract the aches and pains of travel, and enhance her breathing to maintain vocal stamina while touring top blues clubs and festivals across the globe. The combo package deal is aimed at Thien's female fans. Kirsten wanted to connect with her female audience in a new way through this pre-order period by sharing this online workout system that she loves and uses all the time.
CoreFitnessByJana strives to make incorporating exercise for a healthier lifestyle, easy, accessible and fun. Like music, exercise is an energizing and stress reducing force, so combining these two significant lifestyle facets was a natural choice for CoreFitness founder Jana Sanford.
Solo Live from the Meisenfrei Blues Club will be released on June 4, 2013, and can be pre-ordered now on her web site store. Look for the "Wild Woman Workout" to get CoreFitnessByJana monthly or annual membership discount.
About Kirsten Thien:
Kirsten Thien's unlikely path from a Georgetown University Business School graduate to a Blues and Roots Rock singer/songwriter began when she decided to forgo life on Wall Street for a career in music. Since then she has released three full-length albums, toured the USA extensively, opened for Dickey Betts, Shawn Colvin and Buddy Guy, and headlined two European tours.
Her upcoming release, Solo Live from the Meisenfrei Blues Club was recorded in one night, on October 30th, 2012 in Bremen, Germany. It is a compelling and eclectic mix of 16 solo acoustic song arrangements plus song intros and crowd interaction for that fully live feel. The tunes run deep into Thien's own catalog and also branch out into fun covers of Sheryl Crow, Bob Dylan, Sippie Wallace, Elvin Bishop, Bill Withers, B.B. King and Freddie King.
Available everywhere after June 4. Pre-Orders available at http://kirstenthien.com and on iTunes
About CoreFitnessByJana:
CoreFitnessByJana.com, founded by certified Pilates Instructor and ACE Certified Personal Trainer and Wharton MBA Jana Sanford, offers online (or licensed) fitness workouts including: Pilates, Body Sculpting, Cardio Boot Camp, Stretching & Flexibility and Sport Conditioning.
CoreFitness15-20-minute online workout videos use just body weight (or add resistance props for increased intensity) and are designed to help incorporate exercise conveniently into a daily schedule. Because the exercises require no equipment, CoreFitnessByJana.com online fitness videos deliver an effective workout option that can be done anytime and anywhere.
For in-office fitness, CoreFitness' Got A Minute For Your Health one-two minute exercise videos are designed to be done in the office, home or hotel to improve fitness, energize the mind and body and combat the effects of prolonged sitting.
To the web site to learn more about how CoreFitnessByJana.com can help individuals and businesses achieve health and fitness goals.