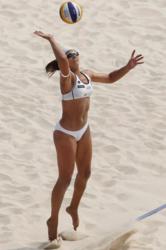 Pilates is an awesome cross training exercise for any sport because it focuses on functional movement. Natalie Coughlin, Olympic Swimmer, About.Com 7/3/12
New York, NY (PRWEB) July 31, 2012
CoreFitnessByJana lauds elite athletes, coaches and the media for taking advantage of the Olympic fervor to highlight the value of Pilates in enhancing sports performance and reducing injury. What these experts recognize is that Pilates is not just about washboard abs, it's about stabilizing with and moving from the core—abs, back, glutes, inner & outer thigh. Pilates is a whole body exercise modality that lengthens and strengthens muscles while building a uniformly developed and balanced body. The key principles of Pilates focus on integration of breath, flexibility, strength, control, and precision and body awareness. These elite athletes recognize these "skills" as critical to any sport or functional movement. A fundamental objective of Pilates is optimal posture and spinal & pelvic alignment which can prevent or reduce low back pain, hip and knee strain and improve shoulder girdle stability and overall balance. Fitness experts and now athletes understand those who develop increased body awareness of initiating movement from the core are better able to produce consistent and repeatable swings, shots, strokes, etc. Because the exercises place little strain and no pounding impact on the joints, Pilates mixes well into training regimens that may otherwise take a toll on the body. Furthermore, because it requires no equipment and can be done anywhere, Pilates is an easy travel workout for these athletes who are frequently on the road for competitions.
Recent articles in Marie Claire, The New York Tines online About.Com Health , USTA.com and Pilates Pro, site several athletes and coaches who endorse these and other benefits of Pilates:

Increased Core strength to improve power
Enhanced balance and control for quick reaction and direction change
Improved flexibility and stability of upper torso for greater control and velocity (golf, tennis, baseball, etc.)
Reduced back injuries by increasing flexibility and ability to support back using abdominal muscles
Improved focus and concentration
In pre-Olympic interviews, athletes across numerous sports credited PIlates for improved fitness, performance and injury correction:
11-time Olympic medalist Natalie Coughlin incorporates Pilates into her training twice per day as a warm-up before getting in the pool and after circuit training in the afternoon (July 2012 issue of Marie Claire).
Victoria Pendelton, British track cyclist says "I've been doing Pilates for more than a year, and for me, it's been a real breakthrough in managing back pain and building my postural muscles."(July 2012 issue of Marie Claire)
Like a lot of cyclists, Victoria suffers from lumbar spine issues from spending numerous hours hunched over the handlebars. Those whose job is at a desk or computer often have the same issue.
Male athletes are also reaping the mind/body benefits of Pilates. Olympic diver, Nick McCrory says "I really enjoy Pilates because aside from just the strength that you build, it really teaches body awareness and coordination, which is essential to diving" (About.Com Health July 3, 2012)
Two-time Olympic gold medalist Kerri Walsh, who's going for a third with partner Misty May Treanor, credits Pilates post pregnancy workouts with regaining her form. "Pilates gives you such great body awareness. When I got pregnant, I really got into Pilates because I wanted to fix all my asymmetries … I have a new body because of it." (About.Com Health July 3, 2012)
The real news though, is that these same benefits of Pilates can apply to weekend warriors and non-athletes as well. Improved posture, increased functional mobility and greater concentration can enhance lives on and off the playing field.
About CoreFitnessByJana:
CoreFitnessByJana.com offers online fitness workouts including Pilates, Body Sculpting, Stretching & Flexibility and Sport Conditioning. Daily, Monthly or Annual Membership options available.
The 15-20 minute exercise videos use just one's body weight (or add resistance props for increased intensity) and are designed to help one incorporate exercise conveniently into a daily schedule.
CoreFitnessByJana online workouts are broken out my major body parts: Abs/Core, Upper Body (back,chest, shoulders & arms) and Lower Body (Hips, Butt & Legs) and/or by sport. As a weekend warrior herself, Jana puts special focus on exercises to enhance sport specific performance, improve flexibility and reduce injuries (golf, tennis, skiing, etc.).
The modular system allows members to customize a great variety of workouts to meet their specific needs and time availability.