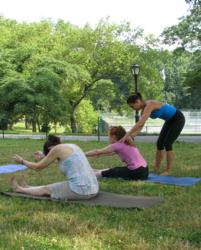 Pilates In The Park is just what I've been looking for since moving to NY 5 years ago. The combination of fresh air, exercise and a great instructor keep me coming back for more. Jennifer F.
New York, NY (PRWEB) June 05, 2013
Pilates In The Park, started in the summer of 2012 by CoreFitnessByJana founder Jana Sanford, has established an enthusiastic and loyal following. Located near the Central Park tennis courts at 93rd street in mid-Park, classes are easily accessible to residents and tourists on the East and West sides of Manhattan. The choice of location by the Central Park Tennis Center affords a beautiful view as well as access to bathrooms, water fountains and a snack bar.
All classes are open to and appropriate for all levels of experience. CoreFitnessByJana Pilates classes infuse classic Pilates Mat exercises with additional body weight exercises to strengthen and tone the abs, back, arms and legs. Pilates in the Park combines the beauty of Central Park with a great total body workout and is a unique experience for long term New Yorkers and visitors alike.
About CoreFitnessByJana
CoreFitnessByJana.com, founded by certified Pilates Instructor and ACE Certified Personal Trainer and Wharton MBA Jana Sanford.
In addition to offering Pilates classes and personal training services in New York City, CoreFitnessByJana provides online fitness workouts including: Pilates, Body Sculpting, Cardio Boot Camp, Stretching & Flexibility and Sport Conditioning, as well as, Corporate Wellness and Hospitality fitness solutions.
CoreFitness15-20-minute online workout videos use just body weight (or add resistance props for increased intensity) and are designed to help incorporate exercise conveniently into a daily schedule. Because the exercises require no equipment, CoreFitnessByJana.com online fitness videos deliver an effective workout option that can be done anytime and anywhere.
For in-office fitness, CoreFitness' Got A Minute For Your Health one-two minute exercise videos are designed to be done in the office, home or hotel to improve fitness, energize the mind and body and combat the effects of prolonged sitting.
To the web site to learn more about how CoreFitnessByJana.com can help individuals and businesses achieve health and fitness goals.