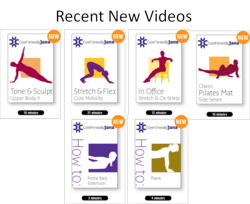 HealthCorps, through its school based programs, advocacy and research, recognizes that it takes a village to initiate cultural change. Jana Sanford, Founder CoreFitnessByJana.com
New York, NY (PRWEB) January 10, 2013
CoreFitnessByJana announces that starting January 1, 2013 10% of revenues from online fitness membership will be donated to HealthCorps to aid in the fight against childhood obesity.
CoreFitnessByJana's mission since its inception is to make healthy lifestyle choices, exercise in particular, easy, accessible and affordable. CoreFitnessByJana founder Jana Sanford believes that by joining forces with HealthCorps through donation, CoreFitnessByJana can reach beyond improving the fitness of its own membership to help foster a new generation of health conscious individuals.
HealthCorp, founded by Dr. Mehmet Oz and his wife in 2003, has impacted over 400,000 individuals through programs operating in 14 states and aspires to be active in all 50 states by 2015.
Sanford says: "The reason we chose to support HealthCorps is that, like CoreFitnessByJana, HealthCorps takes a holistic approach to improving health by addressing the physical, both through exercise and diet, as well as the mental and emotional aspects of lifestyle choices. And in so doing, focuses on providing teens with the knowledge and tools necessary to take control of their health."
About Jana and CoreFitnessByJana:
CoreFitnessByJana.com, founded by certified Pilates Instructor and ACE Certified Personal Trainer Jana Sanford, offers online fitness workouts including Pilates, Body Sculpting, Cardio Boot Camp, Stretching & Flexibility and Sport Conditioning.
The 15-20 minute full workout exercise videos use just one's body weight (or add resistance props for increased intensity) and are designed to help one incorporate exercise conveniently into a daily schedule. Because the exercises require no equipment CoreFitnessByJana.com online fitness videos deliver an effective workout option that can be done any time and any where.
In addition to online individual membership, CoreFitnessByJana also offers Corporate Wellness program packages online or via licensing agreements.
# # #