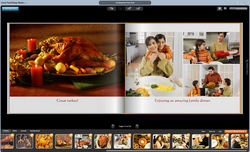 With Corel Digital Studio 2010, it's simple, fast and fun to create stunning projects with photos and videos – no previous experience required.
Ottawa, ON (PRWEB) December 8, 2009
Corel Corporation today announced that Corel® Digital StudioTM 2010 is available at Best Buy stores in the U.S. and http://www.BestBuy.com for only $59.99 – a savings of 40% off the regular suggested retail price – until December 19, 2009. This year, users can make a resolution to do something great with the photo and video memories they capture throughout the holiday season. With Corel® Digital StudioTM 2010, it's simple, fast and fun to create stunning projects with photos and videos – no previous experience required.
Corel Digital Studio 2010 brings photos and videos together in one simple creative experience. Whether making quick fixes to Thanksgiving family photos, creating a photo book of baby's first holiday, or making a slide show or HD home video for loved ones, Corel Digital Studio offers fun and easy ways to create memorable and meaningful keepsakes.
Home Users Can Enjoy and Share Favorite Holiday Memories!

Create a stunning photo book: Show off special holiday memories with a beautiful photo book created in just minutes. There's no lengthy online photo upload to slow down the creative process. Users can focus on memories and create projects that can be printed at home or sent for professional printing using Corel's online service.
Relive Holiday Moments...in a Movie! With Corel Digital Studio, it's easy to create holiday home movies for everyone. With its simple interface and intuitive controls, Corel Digital Studio offers a groundbreaking, visual approach to video projects that makes it easy to enhance and share favorite holiday memories – even in HD!
Share Your Favorite Holiday Moments Online: Share photos and videos with friends and family anywhere. Send memories by email, easily upload them to favorite social networking sites or send them to a mobile device.
Download the Trial and Enter to Win A Holiday Shopping Spree at Best Buy:
Corel has also launched a new contest in time for the holidays. Users who download a free 30-day trial of Corel Digital Studio 2010 from http://www.cnet.com, http://www.download.com or http://www.corel.com/cdstrial will be entered to win a $5000 (USD) shopping spree at Best Buy. For full contest details, please visit http://www.corel.com/bestbuy.
For more information about Corel Digital Studio 2010, please visit http://www.corel.com/digitalstudio.
About Corel:
Corel is one of the world's top software companies with more than 100 million active users in over 75 countries. We develop software that helps people express their ideas and share their stories in more exciting, creative and persuasive ways. Through the years, we've built a reputation for delivering innovative, trusted products that are easy to learn and use, helping people achieve new levels of productivity. The industry has responded with hundreds of awards for software innovation, design and value.
Our award-winning product portfolio includes some of the world's most widely recognized and popular software brands, including CorelDRAW® Graphics Suite, Corel® Painter™, Corel DESIGNER® Technical Suite, Corel® Paint Shop Pro® Photo, Corel® VideoStudio®, Corel® WinDVD®, Corel® WordPerfect® Office, WinZip® and the recently released Corel® Digital Studio™ 2010. Our global headquarters are in Ottawa, Canada, with major offices in the United States, United Kingdom, Germany, China, Taiwan and Japan.
© 2009 Corel Corporation. All rights reserved. Corel, CorelDRAW, Paint Shop Pro, Painter, Corel DESIGNER, VideoStudio, WordPerfect, WinDVD, WinZip, Digital Studio and the Corel logo are trademarks or registered trademarks of Corel Corporation and/or its subsidiaries. All other product names and any registered and unregistered trademarks mentioned are used for identification purposes only and remain the exclusive property of their respective owners.
###