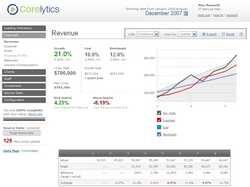 Bellevue, WA (PRWEB) December 22, 2008
CoreConnex, Inc. (CC), a new player in the SaaS industry who provides business intelligence and systems to VARs, MSPs and IT Service Companies announced they have published a video series on How to Build Equity Value in Your IT Service Firm just in time to give IT service company owners added impetus to plan and set goals for 2009. The series is available at no charge and breaks down key elements of building a valuable company.
IT service firms currently using ConnexIT, Connectwise and Autotask psa software are leveraging powerful video series in combination with Corelytics financial management software to set goal, track performance and stay in touch with IT industry benchmarks.
This announcement was made in connection with the CoreConnex launch of the Corelytics™ financial dashboard . The videos were created to give IT service firm owners access to practical perspectives on financial planning with an "end game" in mind. Corelytics™ allows company owners to set financial goals, view and analyze their business performance trends and get a clear understanding of where their business is headed - and why. Corelytics™ incorporates financial performance benchmarks drawn from a network of VARs, MSPs and IT Service Companies.
Recent related blog discussion include:
Perspectives on Financial Planning
The availability of this important video series and the IT industry's only on-line financial management and benchmarking dashboard offer a great resource for owners and managers of IT service companies to gain insight on important business-related topics and learn about IT industry-specific benchmarks that will help grow and increase the value of their businesses. Companies using PSA software are taking full advantage of this valuable video series and financial dashboard combination.
###