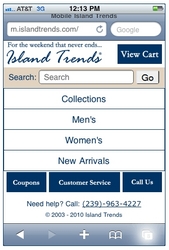 We have noticed a big increase in online traffic from mobile devices such as iPhones, Androids and Blackberrys over the last year
Saratoga Springs, NY (PRWEB) February 11, 2011
CORESense, Inc., the leading SaaS (Software-as-a-Service) provider of end-to-end eCommerce and retail software solutions, today announced that within six months of launching its new ecommerce site, Island Trends unveiled its mobile commerce store front built and managed on their CORESense eCommerce Software Platform. The launch is the latest step in Island Trend's continuing drive to increase availability and convenience for its shoppers.
With the launch of their new mobile friendly site, m.islandtrends.com, Island Trends has created a seamless shopping experience for its customers. Island Trends is a multichannel retailer of island-inspired shirts, clothing, shoes, watches, and accessories from Robert Graham, Nat Nast, Tori Richard, Tommy Bahama, Tribal, FitFlop, Olukai, UGG and others through its stores in Marco Island and Naples, Florida, online at http://www.islandtrends.com and now, on the go.
"We have noticed a big increase in online traffic from mobile devices such as iPhones, Androids and Blackberrys over the last year," says Chadd Chustz, director of internet marketing and sales for Island Trends, "and with smartphone sales soaring, we expect mobile commerce traffic to continue to grow."
The Island Trends mobile commerce site was created through a partnership with web design firm Meticulosity and CORESense, and provides comprehensive features for shoppers that are optimized for their mobile phones, such as:

Ability to browse and search across the entire catalog
Rich product descriptions and full-color images
Customer account integration
Mobile optimized checkout
Store locator
Quick access to new arrivals
Seamless integration with Islands Trends CORESense-based retail and ecommerce management software solution
Compatibility with leading Smartphones
Due to the power and flexibility of the CORESense eCommerce software platform, our development team was able to easily adapt our technology to the demands of the mobile marketplace and meet Island Trend's aggressive roll out plans", said Chris Martin CEO of CORESense. "With the availability of our mobile commerce solution, our clients will be able to effectively service their increasingly mobile customers with a feature-rich mobile storefront and on-the-go customer service."
CORESense is the only SaaS-based retail and ecommerce management software solution that brings together point of sale, ecommerce, merchandising, order management & fulfillment, and CRM & marketing into a single, centrally managed solution.
For more information about CORESense's offerings, please visit http://www.coresense.com, email us at sales(at)coresense(dot)com or call toll free at (866) 229-2804.
# # #