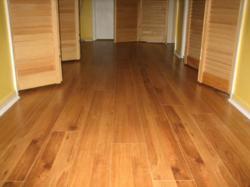 Our primary goal has always been to educate consumers on the eco-friendly properties and benefits of cork flooring. With this partnership we can now further that education via
Chicago, IL (PRWEB) September 06, 2011
Cork Flooring Pros is proud to announce that it has recently acquired a partnership with the FlooringNews.com website. Cork Flooring Pros will write all the articles and blog posts related to cork flooring for the FlooringNews.com Website. Brighton Early had this statement about the partnership: "We are excited to write cork flooring articles for the FlooringNews.com website. Our primary goal has always been to educate consumers on the eco-friendly properties and benefits of cork flooring. With this partnership we can now further that education via the FlooringNews.com". Cork Flooring Pros expects to roll out their first round of articles in the middle of September.
FlooringNews.com is a consumer and professional flooring portal for educational information on all types of flooring. They provide the latest news and information regarding the flooring industry along with guides and resources to help consumers with selecting, purchasing, install, caring and cleaning of all flooring types. "We at FlooringNews.com expect this partnership to help us improve the educational resources with have related to cork flooring. Cork Flooring Pros has shown over time that they provide top notch, non-commercial information related to cork floors and that's exactly what we want at FlooringNews.com" said Ferras Elshair of Flooring News.
Cork Flooring Pros is planning more future strategic partnerships like this one with
FlooringNews.com to further consolidate its placement in the flooring industry. "We are tired of websites that contain information on flooring products like cork flooring which are biased and non-informative because they have an agenda to sell that specific flooring product. In the future we plan to launch more websites that are non-commercial and informational in nature to help the consumer choose if that product is the right choice for them" said Brighton Early of Cork Flooring Pros.
You can view the Cork Flooring Pros website (http://www.CorkFlooringPros.com) or Flooring News (http://www.FlooringNews.com) if you'd like to learn more about the flooring industry or cork flooring. Any consumer looking to install a flooring product should do proper research into that specific product to make sure it's the right choice. There are more important things to look into beside price, including but not limited to: durability, maintenance requirements and moisture/mildew/bacteria resistance. Remember, Cork Flooring Pros or Flooring News is ready help you with that research and is only a few keystrokes away.
###