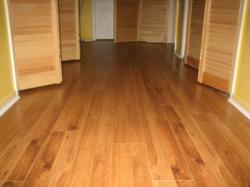 We believe that if we can increase homeowners' knowledge on cork floors they will realize that not only is it a great sustainable resource but also a beautiful product to use in your home
Chicago, IL (PRWEB) October 17, 2011
One of the biggest buzz phrases right now in the environmental movement is 'going green'. While this might not seem like anything new going green is becoming a very popular phrase and attracting a lot of attention. Cork Flooring Pros, a educational portal for information on cork flooring plans to capitalize on this phrase and help educate homeowners on how they can go green by using cork flooring in their household. "We believe that if we can increase homeowners' knowledge on cork floors they will realize that not only is it a great sustainable resource but also a beautiful product to use in your home" said B. Early of Cork Flooring Pros.
One of the interesting facts about cork flooring is it's a wood based flooring product. The staff over at Cork Flooring Pros assures that just because it's a wood based floor doesn't mean it's not a sustainable, green product. The actual process of harvesting the material for cork floors doesn't harm the cork oak tree (Quercus suber) at all. The process simply involves stripping a layer of the bark (the cork material) off the cork oak tree, leaving the tree intact, healthy and able to produce more cork material for many years to come. "One of the best benefits of cork flooring is the fact it doesn't require any deforestation. This means the cork oak tree farms never need to expand beyond the commercial production amount required" said B. Early of Cork Flooring Pros.
There may be some people who think using cork for your floors might be ugly or a bad idea. Cork Flooring Pros makes it clear that cork floors are very durable and in fact can even be compressed by as much as 42% and return to its original shape without any damage. They also mentioned that the beauty of cork flooring can rival virtually any wood floor product competitor on the market. They encourage all homeowners when thinking of doing a new flooring product to take a few moments and visit a vendor who sells cork floors. Once you lay eyes on this fabulous, durable and green flooring product it will easily win a place in your heart.
Cork Flooring Pros is an educational resource for consumers to get information on cork flooring. They do not sell any cork floor products, nor are they owned by a manufacture of cork floors. They simply provide consumers will all the information they need to know about cork flooring.
###