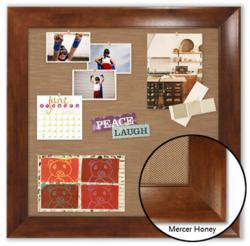 I was blown away by the quality and design of my new cork board. You guys are amazing. And the custom size really looks great in my kitchen!
(PRWEB) June 10, 2013
Corkboard.com has launched a new user friendly website that offers premium all-wood framed boards available in a multitude of sizes and styles. All boards are designed and manufactured by hand in America using only the highest quality materials available. Each cork board is made to order and shipped from its New England workshop. Every corkboard and bulletin board is skillfully constructed by our trained craftsman and carefully built one frame at a time.
The easy to use website also offers beautiful fabric bulletin board designs favored by interior designers for use in the home or office as well as corporate settings with an extensive selection of bulletin board fabrics, and high quality solid wood frame styles.
Custom sizes are offered at no additional charge. Customers can request any custom size, type of board and frame style and Corkboard.com will provide a price quote, usually right over the phone. Interior designers use Corkboard.com to build custom bulletin boards from CSM (customer supplied material).
Frames vary from classic to contemporary, simple to ornate, and are available in several finishes, profiles and styles. Corkboard.com includes real wooden pushpins with every order and guarantees its work unconditionally. Corkboard.com cork boards, magnetic boards, bulletin boards, chalk boards, dry erase boards and new combination boards are the best quality available anywhere.
Corkboard.com business customers include hospitals, country clubs, schools, animal hospitals, nursing homes, dentists' and doctors' offices, yoga studios, visitors centers and even Oprah's network office.
Corkboard.com is also building custom chalk boards using the highest quality magnetic porcelain chalk surface available - it is so durable - it is guaranteed for life. The company's chalk boards can be used at home, as well as for restaurants, schools and office settings.
"I love my new cork board!" is a phrase often heard at Corkboard.com. Happy customers send thank you notes expressing surprise and pleasure as soon as they open the box. Customers are getting organized, finding new and interesting ways to display their visions and ideas and a way for the modern family to keep schedules under control...stylishly.
Every board is checked and re-checked for quality and attention to detail. Each board is packed and shipped securely to arrive safe and sound.
For added design ideas and convenience, new combination boards can be purchased featuring half chalk board or dry erase board, bulletin board or cork board. Revolutionary easy-to-hang beehive hangers are included in every order.
Founder and President Eric Haggard believes that consumers want something special and unique for their homes and offices, and that giving them a helpful website with beautiful large images, and lots of choices to match any decorating style is a great combination. "Most of our customers comment on how easy to use and beautiful our site is. I tell them - that was our goal from day one."
Corkboard.com is the go-to source for quality, handcrafted all-wood framed cork board, bulletin board, magnetic boards, chalk board and dry erase board designs in custom sizes to fit any home or office configuration regardless of size. The company's mission is to design, source and build handcrafted products that help people organize, display and schedule their lives. Corkboard.com guarantees all of its products and will repair or replace any board which does not live up to its customers' expectations.